Hexprobe Storage Encryption Tool 1.3 - User Guide and FAQ
Screenshots - More Details

To decrypt a logical drive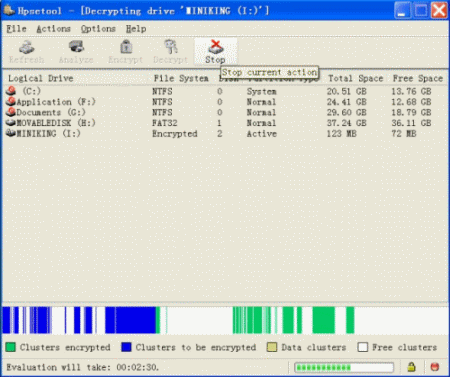 Plug the disk to your computer. Under Windows XP/2000/2003, Hpsetool will detect the change and update the logical drive list automatically; under Windows NT 4.0, you need click Refresh button to reflect the change.
Select the target drive.
Press the Analyze button to view the volume bitmap.
Hpsetool will present a Choose Password dialog for you to type and confirm a password.
Press the Decrypt button to start decryption action.
If you want to cancel the decryption action, you can press the Stop button. Then, all you need to do is waiting Hpsetool to undo decrypted sectors.

When you finish decrypting normally, the logical drive is accessible: within Windows Explorer, you can see the drive letter and browse it.

Screenshots - More Details