Spotmau PowerSuite 2008 - User Guide and FAQ
Screenshots - More Details


How to optimize, clean and speed up my system?
Cannot uninstall unwanted programs? Want to remove pop-ups, Google or Yahoo Toolbar? Something are running on the background slowing your computer? ...Something drives you crazy? Now everything becomes so simple! You can use Wincares of Spotmau PowerSuite 2007 to do it.


Smartly and completely uninstall any programs
Restore default settings of your Internet Explorer
Remove pop-ups and any Toolbars
Choose which programs automatically startup with Windows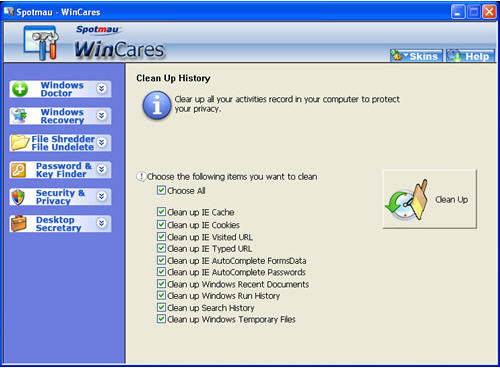 How to find or reset password and key?
Use Wincares of Spotmau PowerSuite 2007 to chose Password Finder. This is a professional password tools are already used by the law enforcement agencies around the world! (Note: It requires physical access to the computer and so it is not a hacking tool).


Reset Admin/User password for Windows XP (SP1 and SP2), 2000, NT, Server
Find email password
Find MSN password
Find asterisks password
Find or clear BIOS/CMOS password
Find Microsoft Windows CD key (product key)
Find Microsoft Office CD key (product key)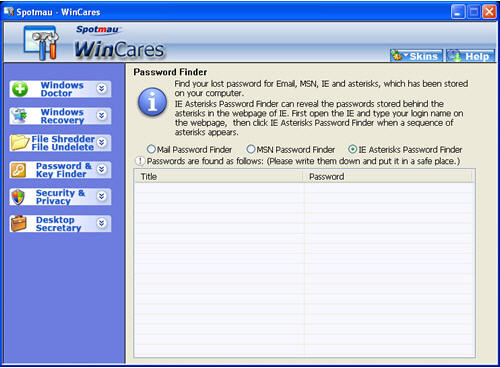 How to clean Up or Hide Private Stuff in PC
Worry about your activities on the computer viewed by your boss or girl friend? Want to have a private file folder that cannot be accessed by others? Want to resell or donate your computer but worry about your personal information?


Permanently clear up all your activity records from computer
Encrypt folders to protect your private files from viewing by others
Permanently delete files or wipe all data from your hard disk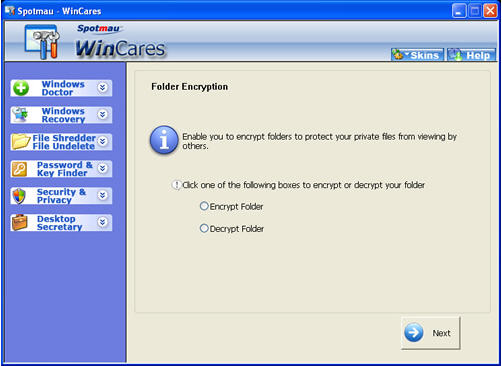 Screenshots - More Details