Video Patrol 4.0 - User Guide and FAQ
Screenshots - More Details


Brief Guide

With just a few clicks, your computer is easily transformed into a powerful video monitoring surveillance system
SET THE SENSOR
Select an action when a motion is detected

Sensor1 : REC, REC+Mail(Message), REC+Mail(JPEG) , REC+Mail[Clip]
sensor2 : Mail(Message), Mail(JPEG)

START MONITORING
Click to start the monitoring surveillance system
CHECK AND SAVE
After checking your files, Back them up to CD or DVD
System requirements
Device Requirements
A capture device (USB camera, TV capture card)
A burning device ( CD-RW, DVD-RW, DVD+RW, DVD-ROM)
Output Format : MPEG-1, MPEG-1 VBR
Processor : Pentium IV 1.8GHz or higher
Memory : 256MB or higher
DirectX 8.1 or higher
Windows Media Player 6.4 or higher
Burn

Create a CD/DVD with selected files.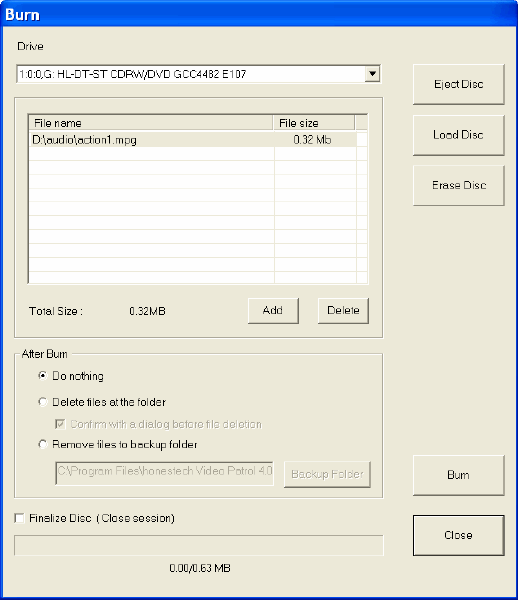 Drive: Display the list of burning devices available.
Add: Add a file to be burn.
Delete: Delete a selected file from the list.
After Burn: Specify how to handle files after they are burn.
Finalize Disc: Prevent a further burning of a CD/DVD disc after burning.
Eject Disc: Eject a disc from the CD/DVD device.
Load Disc: Load a disc to the CD/DVD device.
Erase Disc: Erase the content in a CD.
Burn: Start burning.


Screenshots - More Details