Detailed Description of Web Dictate Internet Dictation Software 2.04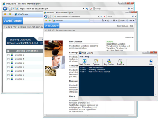 Web Dictate Internet Dictation Software is an Internet dictation system that allows users to record, edit and send dictation from any Java enabled web browser on Windows computers and even on a portable device, such as an iPhone or SmartPhone.

This web based dictation server is ideal for large organizations such as schools, hospitals and laboratories where computers are not assigned or for companies with remote or travelling staff. Web Dictate can also accommodate a single user and is available with a "User" license for individuals or a "Site License" for up to 10,000 users.

Simply install Web Dictate on a Windows based computer and add users. You then provide the server address (URL) to the users and they log in via their web browser.

Features of Web Dictate Internet Dictation Software:

~ Lets you record, edit, play and manage dictation over a network or the internet using a Web Browser.
~ If you install it on a computer connected to the internet you can dictate over the internet.
~ Almost unlimited number of users (10,000) can be setup on the one machine.
~ Each user can have many files save on the server (limited only by hard drive space).
~ Web Browser editing includes record, play, insert, overwrite and append.
~ Files are sent directly to the typist via email.
~ All file access is securely password protected.
~ Very user-friendly web based interface which is intuitive and easy to use.



Web Dictate Internet Dictation Software is designed for:
Win7 x32,Win7 x64,WinOther,WinVista,WinVista x64,WinXP

Web Dictate Internet Dictation Software has the following requirements :

Broadband Internet Connection 64kbps or above.