Detailed Description of MP3 Workshop XP 3.90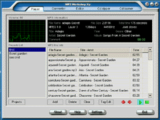 MP3 Workshop XP is a fully integrated software package with mp3 player,mp3 converter,mp3 editor,cd ripper,audio cd burning functions. It is a really all-in-one mp3 product. MP3 Workshop XP was designed to be easy to understand and use. Yet, it is a powerful and complete MP3 music software package available.

You can convert mp3 to wav,wave to mp3. cut mp3 segments, combine multi mp3 files into one or play, convert and rip Music CDs.

MP3 workshop Hot Features




The interface is modern and easy to use, allowing you to quickly access all the features. The program supports projects to further organize your files.

CD Burning: use your favorite mp3 or wave files to burn your own audio cd, support most of the popular cd writers.

CD Ripper: grab music CD tracks and convert to mp3 files or wave files.

MP3 Editor: cut segments from MP3 files and save them in another standard mp3 file or wave file, combine multi mp3 files into one mp3 file or one wave file.

MP3 Converter: MP3 to Wave, Wave to MP3 converter with optional sample rate, bit rate, channel, quality

MP3 Player: Manage all your mp3 files by creating mp3 play-lists.

Tag Editor: Get and edit mp3 tag information with fully mp3 player function.



MP3 Workshop XP is designed for:
WinOther,Win98,WinXP,Win2000,WinVista,WinVista x64