Detailed Description of Audio Songs Creator Software 6.12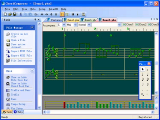 Audio songs composer tool enable user to design professional music by editing files in one or two melody tracks and selecting chord style. Multimedia music generator utility provides intelligent lyrics input function that makes it easy for the user to produce lyrics. Song composer software supports importing and exporting to and from MIDI. Audio songs composition utility edit music in computer and changes sound files into MIDI file formation easily. Sheet music composer application allows user to select one of inte, normal, bridge, fillin1, fillin2, endinf section for each style to edit melody track for any song. Download free music composing program to create, import and export midi file. Professional music composer software is audio songs creator tool with automatic accompaniment function and built-in 100 accompaniment styles to make it easy for user to quickly design perfection song. Song composing software facilitates user to choose chord type to edit music and main melody by 1 or 2 tracks in one song.



Audio Songs Creator Software is designed for:
Win98,WinOther,Win2000,WinXP,WinServer,WinVista

Audio Songs Creator Software has the following requirements :

Added support to edit music file into MIDI file information easily.