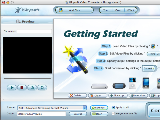 iSkysoft DVD-Library for mac lets you catalog, manage and backup your DVDs on Mac in a visual library. Just enter part of the title or UPC of the DVD (including Blu-ray DVDs), DVD-Library will automatically retrieve the DVD's cover and all relevant info from Amazon, quick and easy. DVD-Library for Mac also allows you to backup DVDs to .dvdmedia files on Mac with one click. Your DVD movie is now at your fingertips and you can enjoy them anytime you want.

Key features of iSkysoft DVD-Library:

Convert DVDs for iPod, iPhone, Apple TV and more
With iSkysoft DVD Ripper for Mac installed, you can directly convert DVD backups for iPod, iPhone, Apple TV, PSP, mobile phone and more.

Manage your DVD collection easily on Mac
Have a complete inventory of your DVDs (including Blu-ray DVDs) on your Mac in a well organized way. Keep track of borrowed DVDs, this smart app will remember when and to whom your DVDs are lent out. Find DVDs you've seen, not seen, lent out, purchased, and wish to buy with Filter. To avoid duplicate purchase, you can check it in your library first. To save you time and effort, DVD-Library allows you to browse your DVDs by title, artist, directors and genres.

Build a photographic DVD Library on Mac
Use the UPC or DVD title to retrieve the DVD's cover and all pertinent information from Amazon, and all DVDs will display in list or cover view. Build a visual DVD library on Mac, including your own DVD collection, either purchased or self-produced, and the DVDs you want to purchase. Catalog DVD collections by actors, directors, years, or genres automatically, save you the trouble of organizing your large DVD collections manually.

Make full quality DVD backups on your Mac
Backup your DVD movies to .dvdmedia files on Mac for convenient entertainment and keep the DVD disc safely on shelf to avoid being scratched. Bckup your favorite DVD movies or TV shows to your MacBook, and enjoy them on the fly.



iSkysoft DVD-Library for Mac is designed for:
Mac OS X,Mac Other

iSkysoft DVD-Library for Mac has the following requirements :

1.PowerPC G4/G5 Mac or Intel-based(32-bit or 64-bit) Mac. 2.At least 512M physical RAM.