Detailed Description of PostNet and OneCode Barcode Font Package 7.10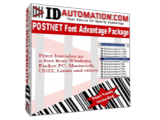 The IDAutomation PostNet and OneCode Barcode Font Advantage Package includes all of the fonts to support USPS bar codes including Postnet, Code 128, Planet, OCR-A and the new OneCode Solution 4-State Customer Barcode.

Postnet & Intelligent Mail Barcode Font Package Features contains several font versions in many font formats (including TrueType, PostScript, OpenType and PCL) for Windows, Macintosh, Linux and a variety of other operating systems. The download includes examples for Crystal Reports, OpenOffice Calc, Microsoft Excel, Word and Access. In addition, over 30 font tools and encoders are available for easy integration into many different applications.

PostNet and OneCode Barcode Font Package Features



Font Tools Provided - Several font tools are provided to assist with application integration. The font tools automatically format the start, stop and check characters to the barcode font.

Multiple Fonts Provided - Multiple versions of the Postnet barcode fonts are provided in this package to support various implementations and printers.

Intelligent Mail Barcode Fonts.

FIM Barcode Fonts.

Planet Barcode Fonts Included.

OCR-A Barcode Font Included - This font is included to automate the reading of address data from text.

USPS Special Services Barcode Font Included for EAN128.

Canada Post Support - The IDAutomationC128L font is provided and will produce the dimensions required by the CANADA POST.

Patent Pending Technology - The fonts provided in this package include new patent pending technology.

Multiple Formats Provided.



PostNet and OneCode Barcode Font Package is designed for:
WinOther,Win98,WinXP,Win2000,WinServer,WinVista,Unix,Linux,MS-DOS,Mac Other,Pocket PC,Mac OS X,WinMobile

PostNet and OneCode Barcode Font Package has the following requirements :

Graphics Printer