Bookmark Organizer
Bookmarks are usually web locations which we re-visit (or mean to re-visit but never actually come to it) often or rarely, depending on the actual web site or a web page. No one has quite the patience to sort out their bookmarks directly in the browser - we just set one and go on surfing. Besides, there is no easy way to do it using the browser means only.
Bookmark organizer software can help you manage your Internet browsing with drag-and-drop support, bookmarks and favorites importing, and searching abilities. These software also creates thumbnail images for your Web site. Using the Bookmark Organizer to organize your bookmarks in chrome, Organize Bookmarks in firefox, Organize Bookmarks in Safari, Organize Bookmarks in mozilla, etc.
I find a very powerful software - Bookmark Buddy. Organize your bookmarks/favorites, shortcuts and logins simply, quickly and reliably with this intuitive, feature-rich bookmark and login manager:
To retrieve a bookmark quickly:
- Navigate to any bookmark in three clicks: category, subcategory, bookmark.
- Search for a bookmark with full-text searching or filter by rating, date or site status.
- Check the SmartFolders, which automatically track which bookmarks you're using.
- Schedule one-off or regular visits to bookmarked pages.
Store your login details (securely encrypted) and fill out log-in forms and dialogs with a single keystroke. Keep unlimited notes with your bookmarks: site descriptions, shipping details, order references, you name it.
File a bookmark quickly with the intuitive 3-level filing system - and file in as many categories as you like using Bookmark Buddy's neat aliasing facility. Use keywords and a star rating to help you find bookmarks again. Seek and remove duplicates with ease. Bookmark Buddy Download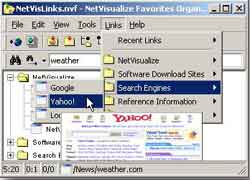 I recommend NetVisualize Favorites Organizer. NetVisualize Favorites Organizer lets you manage your favorite URLs and bookmarks visually. NetVisualize creates thumbnail images of your favorite websites, and is as simple to use and familiar as Windows Explorer.

NetVisualize will import Firefox, Netscape, or Opera Bookmarks and Internet Explorer Favorites, and provide you with powerful text and visual search capabilities to help make your Internet browsing experience manageable.

NetVisualize can display an image directory of website thumbnails, making it easy to visually scan for a particular site when you are not able to remember the name but you are sure you will know it when you see it. You can also save your links to an HTML file, complete with thumbnails, and set this page as your browser home page or upload it to your website to give your links page some extra visual appeal.

NetVisualize includes link validation functionality. It also includes a printable Adobe PDF manual. This update provides several enhancements and bug fixes, including better Firefox compatibility. NetVisualize Favorites Organizer Download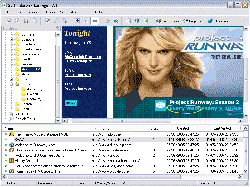 SV Bookmark is a powerful and effective tool for creating, storing, arranging and maintaining a collection of links to interesting Internet pages the contents and properties of which you would like to save and use in future. While you are browsing the Internet, it will help you quickly add a bookmark to your collection, save a lot of additional information and also create a screenshot of the webpage content.
<b>SV Bookmark Main program features:</b>
* Supporting most popular web browsers: MS Internet Explorer, Maxthon, Mozilla Firefox
* Creating bookmarks quickly right in the window of the web browser with one mouse click or hotkey stroke.
* Creating a system of folders with any complexity for storing bookmarks grouped by some criteria.
* Creating private password-protected folders.
* Creating a web page screenshot allowing you to visually control the content of the saved page.
* Backing up and restoring the entire bookmark collection.
* Creating thumbnails allowing you to see bookmarks as small windows with the real web page content displayed in it, which prevents you from getting lost in a large number of saved links.
* Storing a lot of various web page properties and attributes, as well as a user comment, along with its address and title. SV Bookmark Download
Link Commander is a marvelous and innovative bookmark manager which facilitates the easy creation and maintenance of your Internet bookmark collections in a format which is browser-independent and enables the easy porting of bookmark collections. Link Commander is browser-independent. This means that it does not require any specific browser, but rather supports them all. It can export/import links to/from virtually every modern browser.
Link Commander instantly monitors your open browser windows and clipboard for URLs and is able to add a bookmark whenever you need it, from whatever browser you happen to be using at the moment. Link Commander provides advanced capabilities to manage your bookmarks: searching, link validation, automated duplicate elimination, etc. A bookmarks collection can also be protected with a password. You can open bookmarks with any browser installed on your computer.
For Link Commander, a Bookmark is not just a URL. When you add a bookmark, the program analyzes the page you bookmarked and retrieves additional info from it, such as title, short description, keywords, etc. This info helps when you through your bookmarks collection. Link Commander Lite Download

The default browser functions don't seem to solve the listed problems, this is why there exists a number of bookmark managers. But most of them fail to deal with the problem of entering the web from different PCs. Fortunately Resort Labs has developed Portable Bookmarks - a mobile edition of the professional bookmark manager called Link Commander.
The best in Portable Bookmarks is that it can transfer the links from one computer to another. The small size of the software allows you to upload it to any removable device, such as a CD disc or a USB storage device. Then, you can simply attach the removable device to any computer and your links become available. Wherever you are, at home, in a cybercaf? or on a business trip, your bookmark collection travels with you all along, within the reliable keeper.
Using the most advanced tools for seeking duplicate links, Portable Bookmarks will automatically check the accessibility of kept links, track down and delete the old and duplicated ones. The link collection will always be up-to-date, so Portable Bookmarks is of great help for students, engineers, journalists i.e. people willing to have a systematized links collection. Portable Bookmarks Download