Mobile Tracking and GPS Tracking software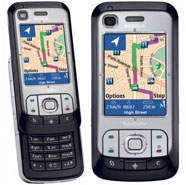 Mobile phone tracking tracks the current position of a mobile phone even on the move. To locate the phone, it must emit at least the roaming signal to contact the next nearby antenna tower, but the process does not require an active call GSM.
Mobile positioning, i.e. location based service that discloses the actual coordinates of a mobile phone bearer, is a technology used by telecommunication companies to approximate where a mobile phone, and thereby also its user (bearer), temporarily resides. The more properly applied term locating refers to the purpose rather than a positioning process. Such service is offered as an option of the class of location-based services (LBS)
GPS tracking unit is a device that uses the Global Positioning System to determine the precise location of a vehicle, person, or other asset to which it is attached and to record the position of the asset at regular intervals. The recorded location data can be stored within the tracking unit, or it may be transmitted to a central location data base, or internet-connected computer, using a cellular (GPRS), radio, or satellite modem embedded in the unit. This allows the asset's location to be displayed against a map backdrop either in real time or when analysing the track later, using customized software.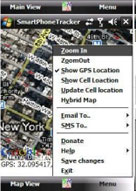 SmartPhoneTracker allows you to locate your phone via GPS coordinates, useful if your phone gets lost or stolen, and for locating missing family members. Basically, SmartPhone Tracker is configured to listen for a certain text message. When it receives that text message, the program will wake up, activate the phone's GPS and obtain a lock.

Once it has GPS satellites locked, it will send an email or/and text message with a link to Google Maps with the phone's location and exact GPS coordinates. If there is no GPS reception for 5 minute, SmartPhoneTracker will send the approximate Cell Tower location.

New Features: Intercept incoming location SMS. This great feature is usfull your friend/family has also SmartPhoneTracker. When receiving a location SMS (Menu->SMS To..), SmartPhoneTracker will automaticaly open and display the the received location on a map. You can then toggle between the received location and your location. SmartphoneTracker Download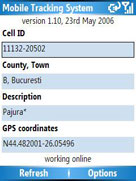 Mobile Tracking System is a new project from Fightersoft Multimedia that provides an real time tracking and messaging services. How does it work? The client version of MTS is a smartphone application that can get the identification data of the current cell used by the mobile phone. With this information, the client application connects to the MTS server and the server returns the location description of that cellid to the phone.
Based on this concept MTS can provide a number of interesting services such as mobile phone tracking, viewing of pictures from every part of the country, messaging services and the best is yet to come. MTS is under heavy development and new and very interesting features will be made available shortly. MTS also support GPS receivers and displays map and satellite pictures using Google Maps.
Mobile Tracking System Features include: get your current location from a GSM cellid, get your current location from the GPS receiver, add or edit a cellid directly from the mobile client, every cellid can have a photo, realtime any user tracking (if allowed by user), send and receive e-mail messages directly to and from the MTS client, send and receive MTS chat messages, send and receive files, get notifications when a previously specified user is in the area...etc. Mobile Tracking System Download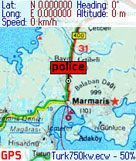 SmartComGPS is a GPS mapping/tracking/navigation software for Symbian smartphones. It is one of most advanced GPS mapping software on the market. SmartComGPS designed for the all Symbian phones. It is compatible with external BT GPS receivers, and internal aGPS receiver of Motorola A920/925/1000.
SmartComGPS can run without GPS receiver, as "mapping" software with namesearch ability, and on the contrary, without maps, as "GPS tracking" software. But, if you have a maps and GPS receiver - it is a best, and you can use all of SmartComGPS features.
Features include: compatible with OziExplorer maps and data files. Can read and write .plt, .wpt, .map, .names, .rte files, Create and calibrate bitmap maps using OziExplorer on PC, Enhanced bitmap map view, Unlimited map size, map chunks loading dynamically. There is no free RAM limitation! Mini map mode, with fast navigation, Support for many map projections, and datums, User customizable projection settings, Autoload map feature... etc. SmartComGPS for Series 60 Download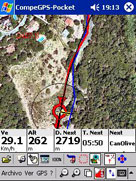 This is CompeGPS PDA version. With it, your Pocket PC will be equipped with the most important functions of CompeGPS so you can easily use them during your outdoor trips.

View maps, create waypoints, plan routes and be oriented through them knowing your position, direction to follow and all kind of navigation data (speed, distances, altitude, slope, etc.).

CompeGPS Pocket Land opens ECW, RMAP, CDEM (elevation maps) and MPVF (vectorial) digital maps. In addition to them, many other map formats can be converted to these ones using the free Demo of CompeGPS Land (PC version).

CompeGPS is compatible with most of GPS models, so you will be able to accede the information it sends and work with it in CompeGPS Pocket. CompeGPS Pocket Land Download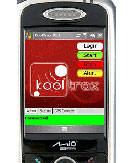 KoolTrax Mobile helps turn a mobile phone into an affordable personal GPS tracker. KoolTrax Mobile is an affordable GPS tracking device that still offered our amazing GPS-standard 4 metre accuracy and real time tracking. KoolTrax Mobile turns any Windows Mobile 5+*, GPS enabled mobile phone PDA into a GPS tracking device, so you can track the exact location of your loved ones. .
KoolTrax Mobile Download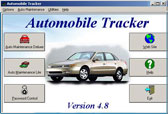 Automobile Tracker - This straightforward program lets you enter and track information about your automobile. Maintenance reminders bases on mileage and/or dates can be displayed with AutoMobile Tracker software. AutoMobile Tracker doesn't contain all of the Plus information contained in Auto Maintenance Plus, but if all you need is to track information on your automobiles, AutoMobile Tracker is the Mobile Tracker software for you.
AutoMobile Tracker Download