Animation GIF Converter
Animated GIF file - An Animated GIF (Graphics Interchange Format) file is a graphic image on a Web page that moves . is not really a video format. It is a sequence of GIF frames stringed together. Due to the 256-color limitation of GIF, the color is dithered. The compression is not that great, so the file size tend to be large given the frame rate and resolution.

Animation GIF Converter is a powerful tool to convert GIF to video . And it also could convert video file to animated GIF file and enables you to add over 50 effects to the GIF file .Then you may want to convert your gif files with this converters ,Now you may download the below free trial programs to do it yourself......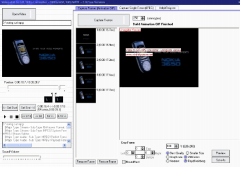 Video-AVI GIF Converter is a tool to capture selected frames of the video file and save them to animation GIF or JPEG formats. It is a software to help you convert MPEG , ASF , AVI , WMV video files to GIF and JPEG picture files, it capture the frames from playing video, you may change the Brightness , Rate and Size for the output file.

Generally speaking, Video-AVI to GIF converter is the professional video converter that converts AVI(DivX, XviD, MS MPEG4, Uncompressed, Cinepak and other), MPEG-1, MPEG-2, WMV or QuickTime into animation GIF file. It provides real-time and step-frame modes for capturing video sequences. Download Free Trial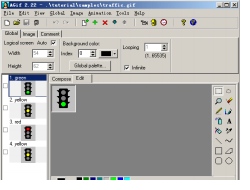 With Active GIF Creator you can create fabulous animated GIF images for the Web. You can even create movies using pictures or graphics created or edited in any image editing program, including Windows Paint, Adobe Photoshop and dozens of others.

Active GIF Creator supports importing different images including BMP, JPG, GIF, ICO, PSD, etc., and creates animated GIF file of GIF98a format. And it supports importing from and exporting to animated files including AVI and ANI.

Active GIF Creator features some built-in programs including a GIF optimizer, a color palette, a 3D button creator, and a map editor. Download Free Trial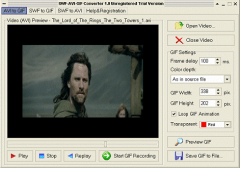 SWF-AVI-GIF Converter is a software to help you convert Shockwave Flash (SWF) and Video (AVI) files to animated GIF, or convert SWF to AVI. With just 5 easy steps you can capture selected frames of Macromedia Flash or Video file and save them to GIF, or create AVI file from SWF and WAV. Many output settings available so you can be sure you will always get the best result.
Main Features :
Convert AVI to GIF.
Convert SWF to GIF.
Convert SWF to AVI.
Download Free Trial
AVI GIF Converter is designed for converting AVI to GIF, or converting GIF to AVI. This small and simple AVI GIF converter is an useful converting software program. Instantly convert AVI to GIF or GIF to AVI in just a click or two. Converting AVI to GIF, then you can place it on your website. Converting GIF to AVI , then you can insert it into your own video clips. AVI GIF Converter makes you share your funny AVI and amusing GIF easily.
AVI GIF Converter is designed for:
Win98,WinME,WinNT 4.x,Windows2000,WinXP,Windows2003
Download Free Trial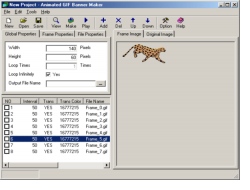 Animated GIF Banner Maker is software designed for making animated GIF Banner file from graphic files. It is designed for Windows 98, ME, NT, 2000, or XP system. With this software, you may make an animated GIF banner with your pictures within minutes. It also supports editting animated GIF file, converting AVI to GIF, converting GIF to AVI, extracting GIF frames, and some other advanced features.


It supports the following image formats: *.bmp, *.gif, *.jpg, *.tga, *.png, *.ico, *.wmf, *.emf, *.sgi, *.dib, *.icb, *.pcx, *.pcd, *.psp, *.pbm, *.pgm, *.psd, *.ppm, *.psg, *.vst, *.vda, *.tif, *.wbmp, *.rle

It supports extracting animated gif's frames into files of bmp, jpg, gif. Download Free Trial