VOB Players and VOB Codecs
What is VOB? VOB stands for DVD Video Object. It is basically one of the core files found on DVD-Video discs and contains the actual movie data, including an MPEG-2 video stream and support audio (MP2, AC3, DTS etc.) In order to view stand-alone VOB files, you need to have a DVD player software that supports VOB playback.
How Do I Play VOB files? If you have obtained a .vob file then you have a DVD Video Object file. This is basically an MPEG-2 video file that is stored on DVDs. It usually contains one or several audio tracks and subtitle tracks. To play these files back you will need DVD playing software such as WinDVD. You can also play these files with Media Player Classic. Here are the selected VOB players and the proper VOB codecs enable you play well the VOB files.

Now you can play VOB files and. You may also want to play other video formats with these best VOB players or play your VOB files with other common video player. So, you'll need VOB converter to convert other video formats to VOB or convert VOB to other video formats such as AVI, MPEG, MPG, WMV, MP4, MOV, 3GP/3G2, H.264, ASF, FLV etc.
Aimersoft DVD Ripper - a powerful DVD ripping software. This best DVD Ripper can rip DVD to MP4, AVI, WMV, MOV, RM, RMVB, MPG, MPEG, 3GP, FLV, VOB, WMA, MP3, WAV and so forth, DVD Ripper download free here.
Download Now
OJOsoft VOB Converter - designed for backuping your favorite DVD movies and videos to your computer by converting VOB to AVI, MPEG, WMV, 3GP/3G2, ASF, FLV etc. It supports converting any video format to VOB format.
Download Now
RER VOB Converter - an easy to use VOB conversion to convert almost any video formats to VOB and convert VOB to all popular video/audio formats, such as MP4, MOV, 3GP, 3G2, MPEG, with fast speed and quality.
Download Now


Best VOB Players & VOB Codecs software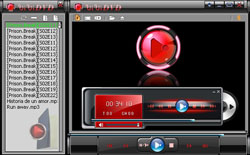 Now I recommend a very excellent player can play VOB format - ViVi DVD Player. It is an easy to use and powerful - DVD player that combines the great picture and sound with full featured DVD navigation that includes: DVD playback with full operating controls.

ViVi DVD Player supports most popular video and audio formats. It can play vob format, certain it can play other popular video and audio formats including IFO, DAT,AVI, WAV, MPEG, WMA, WMV, ASF, RMVB and DivX, and it also provides you more options to specify, such as image ratio, snapshots, audio channel etc.

ViVi DVD Player will play different region coded movies from anywhere in the world, and will play all zone pal and ntsc dvd discs, even your DVD device did not support the DVD disc region.This means that movies from Region 1 (USA & Canada) WILL NOT play on a DVD player regions 2-6. Effectively Region 1 discs play only on Region 1 DVD players, Region 2 discs play only on Region 2 DVD players and so on.But with the ViVi DVD Player you can play any Region discs on any Region DVD read device.you will enjoy countless hours of pleasure and entertainment! . ViViDVD Player Download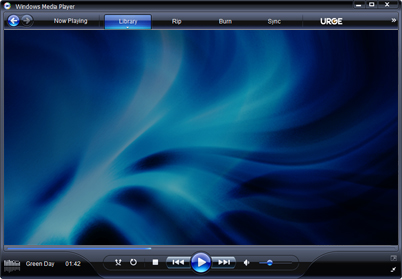 Windows Media Player for Windows XP offers great new ways to store and enjoy music, video, pictures, and recorded TV. Play it, view it, and sync it to a portable device for enjoying on the go or even share with devices around your home all from one place. Windows Media Player is available for the Windows, Windows Mobile, and Mac OS. The new design lets you get the most out of your digital library and enjoy simple solutions for managing it all.
Windows Media Player becomes a full-featured DVD player when combined with a DVD decoder (MPEG-2 decoder) with features such as full-screen video playback controls, DVD chapter listings, and integrated cover art. Except supporting many other video types, it plays VOB files well too. Windows Media Player Download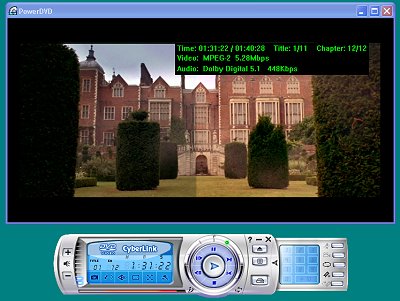 CyberLink PowerDVD delivers new dimensions in the way you can enjoy your movies. In addition to offering industry-leading movie playback quality in high-definition (HD), PowerDVD now extends the movie experience with an online web service called MoovieLive and offers an innovative and novel concept of remixing your favorite DVD movies for sharing with the world. PowerDVD 8 delivers uncompromising quality for movie playback on the PC.
CyberLink PowerDVD is a perfect solution for your VOB files and all DVD playing needs. And, it plays VOB files excellently. It may seem quite simple at first sight but after all, you don't need much more apart from "play" and "pause" to happily watch a movie on your PC. CyberLink PowerDVD Download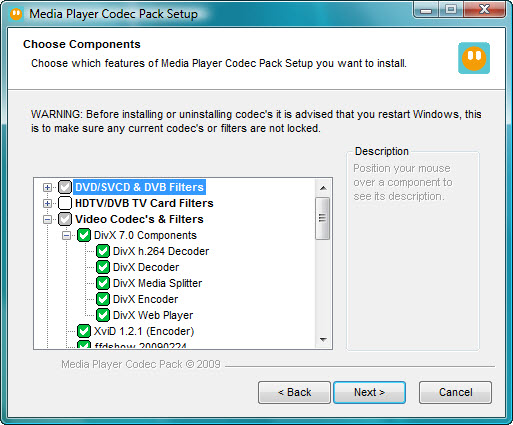 The Media Player Codec Pack is a simple to install package of codecs/filters/splitters used for playing back music and movie files. with Media Player Codec Pack you can play 99.9% of files through your media player, along with XCD's, VCD's, SVCD's and DVD's.
Also included in the package are a number of encoder codec's, allowing you to encode files in formats such as DivX. XviD, x264 and many more in your favourite encoding application. Compression types supported include DivX, XviD, x264, h.264 and many more in AVI, MKV, OGM, MP4 files. Video file types supported include 3GPP, AVI, MKV, OGM, MP4, MPG, MPEG, VOB, DAT, FLV, PS, TS, NUV. Audio file types supported include AC3, DTS, AAC, APE, FLAC, TTA, WV, OGG, Vorbis, MO3, IT, XM, S3M, MTM, MOD, UMX. Media Player Codec Pack Download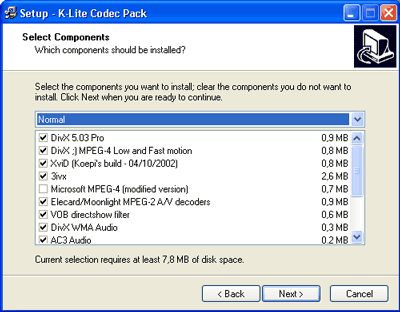 K-Lite Mega Codec Pack is a collection of codecs, DirectShow filters and tools. With K-Lite Codec Pack you should be able to play all the popular audio and video formats and even some rare formats: AVI (.avi .divx), MPEG-PS (.mpeg .mpg .m1v .m2v), MPEG-TS (.ts .m2ts), Matroska (.mkv .mka), MP4 (.mp4 .m4v), Ogg (.ogm .ogg), DVD/VCD/XVCD (.vob .dat), Flash Video (.flv), QuickTime (.mov .hdmov), RealMedia (.rm .rmvb .ra .ram), 3GP (.3gp .3gpp .3g2 .3gp2)....
K-Lite Mega Codec Pack includes the Full K-lite codec pack as well as Quicktime and Realplayer codecs and BS Player. K-Lite Mega Codec Pack includes codecs for the most popular compressions like Divx and Xvid as well as some of the less popular but still necesary codecs. K-Lite Mega Codec Pack Download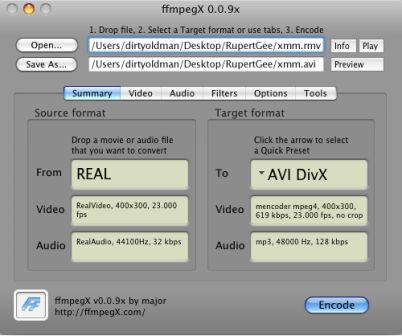 ffmpegX is a Mac OS X graphic user interface designed to easily operate more than 20 powerful Unix open-source video and audio processing tools including ffmpeg the "hyper fast video and audio encoder", mpeg2enc the open-source mpeg-2 encoder and multiplexer and mencoder the mpeg-4 encoder with subtitles support.
ffmpegX can reads the following input formats: MPEG-1, MPEG-2, MPEG-4, DIVX, XviD, non-encrypted VOB and VIDEO_TS, Quicktime .MOV, .DV, .WAV, Real Audio, Real Video, H.263, MP4 H.264, PGM, YUV, PPM, AC3, PCM8/16 bits, mulaw/Alaw, WMA-1/2, SUN AU format, MP2, MP3, AAC, 3GP, FPS1, ALAC, and even more formats. ffmpegX for Mac Download
More Other Video VOB Players Recommend and Download:

VH Player - a free media player supports avi, asf, flv, mov (inc. 3gp, 3g2, psp, mp4), mpeg, vob, dv, flac, m4v, mp2, mp3, wav, etc.. Download Now
GOM Player - a very cool looking multimedia player supports file formats such as AVI, DAT, MPEG, DivX, WMV, VOB... Download Now
SMPlayer -A new multimedia player supports formats: AVI, MKV, OGM, MPEG, VOB, 3GP, ASF, MOV, WMV, MP3... Download Now
VLC Media Player for Mac - a highly portable multimedia player MKV, MPEG-1, MPEG-2, MPEG-4, DivX, MP3, VOB.... Download Now
MPlayer - It plays most MPEG, VOB, 3GP, AVI, Ogg, OGM, VIVO, ASF/WMA/WMV, QT/MOV/MP4.... Download Now
Meida Player Classic - A compact media player for Microsoft Windows with built-in codecs for MKV, MKA, MPEG, VOB... Download Now