Facebook Photo Slideshow & Facebook Photo Generator

Have you seen some Facebook profiles that have very attractive slideshows of their photographs, rather than a static display of images one after the other? Are you thinking about how can you do something like that for your own photographs? It is rather simple. You can now make your photo albums more engaging and cool after you read this artical. Listed are Facebook photo slideshows and facebook photo generators to create multimedia presentations from your favourite photos or digital images. These selections of facebook slideshow photo widgets will help you create amazing slideshows and spiff up your Facebook profile page.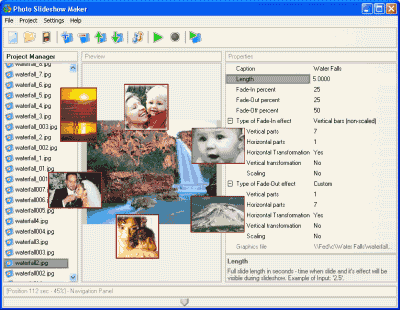 Photo SlideShow Maker helps to make SlideShow easily with accompanied music and various transition effects. As a result you can get a standalone executable (.exe) file with music, images inside. So you can easily view, copy and share ready-made SlideShow with your friends at Facebook.
Photo SlideShow Maker allows you to use various graphics formats (.jpeg, .jpg, .gif, .bmp, .png, .pcx, .psd, .tif, .tiff, .tga); use various music formats (.mp3, .wma, .wav, .wave, .midi, .mid, .snd, .au); set transition effects both for fade-in and fade-out images;change slide settings either for whole SlideShow, slide groups or individual slides; preview SlideShow from any position you like; play background music from play list during SlideShow; customize various SlideShow parameters; add and edit slide captions; save SlideShow projects in special format that allows you to open and edit them later on; create output SlideShow as a compact standalone executable (.exe) file. Photo SlideShow Maker Download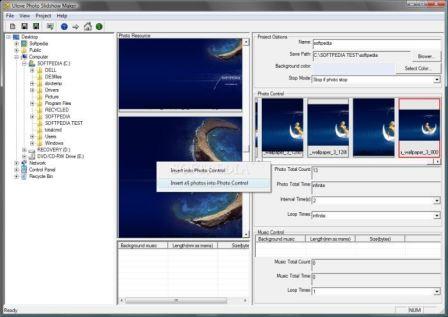 Ulove Slideshow Maker (original name:Ulove Photo Slidshow Maker) is a tool that compile your favorite images into slideshows. You can publish your slids on the Facebook profile page to others. It can help you quickly produce slideshow. Photo slideshow could also includes background music.
It includes a tool that play slidshow named Ulove Slideshow Player. Ulove Slideshow Player is a freeware.. Ulove Slideshow Maker features: 1. Ulove Photo Slidshow Maker can produce slidshow saved as a project. 2. You can still join in your favorite musics with photo slideshows. 3. You can publish your slidshows to your friends and relatives. 4. It supports photo formats:jpg(jpeg),gif,bmp,and so on. 5. It supports music formats:mp3,wav,mid,and so on. Ulove Slideshow Maker Download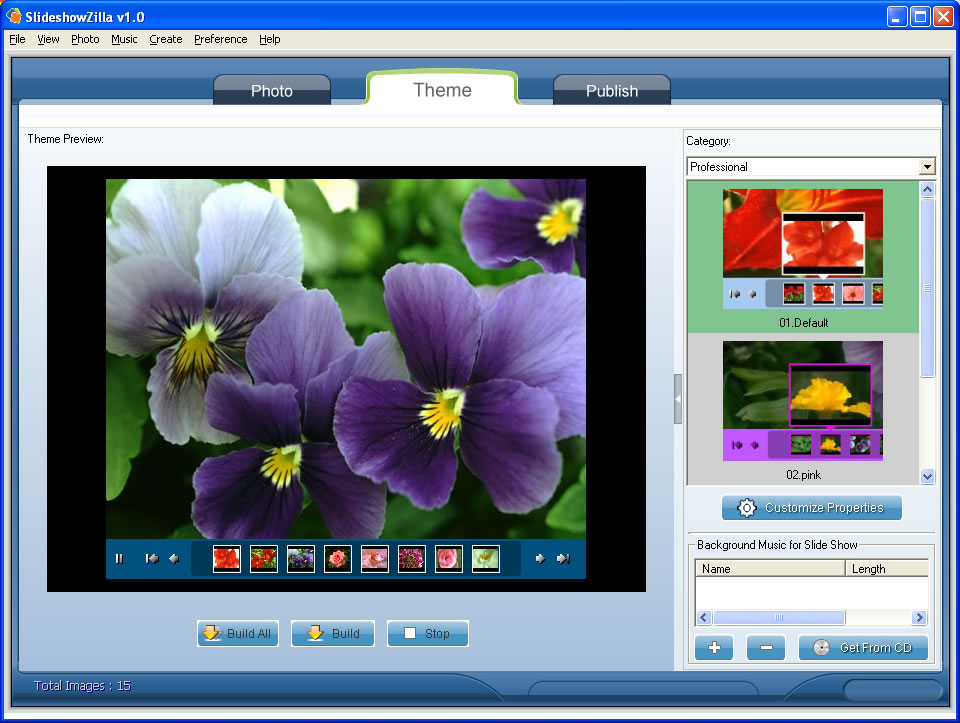 SlideshowZilla Flash Gallery Builder is an ultra slide show Flash tool that helps you to display photo album and slideshows on your own Facebook profile page. With dozens of preset themes, you can easily make XML driven photo galleries for websites. SlideshowZilla Flash Gallery Builder is a template based Flash authoring tool, so you don't need to know anything about XML or FLASH coding. Just simply select desired template and create SWF photo slideshow with a few clicks. The three-step workflow makes you create eye-catching photo slideshow in minutes. Each template can be customized in terms of movie size, load style and other flash control options. SlideshowZilla Flash Gallery Builder will be the easiest way to make styled slideshow matching your own website design.
SlideshowZilla Flash Gallery Builder is a template based application. It contains more than 40 preset professional album templates for your selection. Each template brings amazing effects to your photo gallery. Furthermore, you can customize each template as you like. You can resize the slideshow and adjust color themes to match your website design. SlideshowZilla Download
JavaScript Brief Slideshow is a JavaScript-producing design tool for authoring slideshow with sliding info on web pages. The script can be customized highly and easily through the SCP(Script Configuration Program). You can specify image, size, color, link and more to script. It is unnecessary to write any code manually. SCP will generate all necessary codes automatically.
You will need to upload some files to web server to get the script to work and all these files will be saved along with the project file so that you can easily find and publish them to the Internet or deploy to Intranet. Help documentation is included but you may not need it with self-explanation interface. With this easy-to-use script authoring tool, you can make a professional script just in minutes for your Facebook! JavaScript Brief Slideshow works on IE 5+ / Netscape 6+ / Mozilla 1.1+ / Opera 8+; script can be customized highly; configure script parameters through Windows Configuration Program; generate script parameters automatically; pre-made templates; preview the script by simply one-button-click; specify web browser to preview. JavaScript Brief Slideshow Download