Mobile Flash player - FLV & SWF player
What`s the relationship among flash, flv and swf ? FLV is short for FLASH VIDEO .FLV streaming media format is a new video format, called the Flash Video. Because of its documents the formation of small, fast loading, making the network view video files as possible, it appears to effectively solve the video file into Flash later. You can use most of the player software to play flv, but also the main video format of current video sites.
SWF(Shockwave Flash) file is the flash animation after the release of documents, which is also used to decorate the site animation files. The souce file of SWF is FLA file.
How to play .flv,.swf on the mobile? The mobile flash, FLV, SWF player enables you to play Flash Movies, .flv,.swf files in your Pocket PC device outside both in full screen mode and in landscape mode. Landscape mode also supported WM2003. VGA and Square Screen Aware. WM5/WM6 Compatible. Full screen and Landscape playback. Zoom 100% to 150%.


Now you can play MOV files with the best MOV player & MOV codec. But, you may also want to play your other video formats with your MOV player & MOV codec or convert MOV files to other video formats and player them with other common players. So, you'll need MOV converter.
MOV Converter - a splendid tool for MOV to AVI, MOV to MPEG, MOV to WMV, MOV to DVD, MOV to VCD, MOV to MP4 video converter. It supports convert MOV, QT files to DVD-Video files and VCD/SVCD image(*.bin,*.cue).
Download Now
RZ MOV Converter - convert any video andio files(Avi, MP4, Flv, 3GP, MPG, TS, M2TS, WMV, MKV, RM, RMVB, OGG, etc.) to MOV files. Built-in more video edit tools, Video joiners and splitters, Video organizers, Video Preview.
Download Now
Tutu X to MOV Converter - Tutu X to MOV Converter is an efficient tool and used to batch convert MOV files to other video formats, which can convert MOV file with excellent quality, such as AVI to MOV, MPEG to MOV, WMV to MOV etc.
Download Now


Best MOV Players & MOV Codecs software
CorePlayer Mobile and Pro is at the center of the CoreCodec Universe for manipulating multimedia content on your desktop, mobile phone, portable media player, PDA, GPS, or convergence device.
CorePlayer Mobile and Pro is designed to be a next-generation multimedia platform that will extend upon what you thought were limits in playing back fluid multimedia, with its simple yet extremely powerful interface and features that is designed to empower the CoreCodec Community
CorePlayer Mobile is built-in YouTube Support ,with bluetooth ready,and supports 22languages. It has Podcast, Enhanced Podcast, CoreCaster Ready. The operating system support: Symbian (all), CE (3.x - 4.x), Windows Mobile/Smartphone (5.x - 6.x), Palm. (Linux for OEM only) which is best in Class audio and video codecs like CoreAVC our High Definition H.264 video decoder. CorePlayer Mobile and Pro Download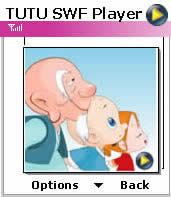 TUTU SWF Player enables your Symbian S60 phones to play standard SWF (Shockwave Flash ) files, such as Flash videos, games, etc. With TUTU SWF Player installed you're free to watch abundant Flash contents as you like, just copy them into your phone and there you go!
TUTU SWF Player`s main Features include:SMacromedia Flash player compliant, supporting up to (including) Flash 5 contents, ZLlib compressed WF files are supported, all fill styles defined in Flash file format specification are supported, supporting Morph shape and Mask, both static text and dynamic text, the same with glyph fonts and device fonts,event sound and stream sound, SWF3, SWF4, SWF5 action model and partial support for SWF6 action mode, and mobile device keyboard mapping. TUTU SWF Player Requires Series 60 Compatible Phone and 400KB for the player on mobile device. TUTU SWF Player Download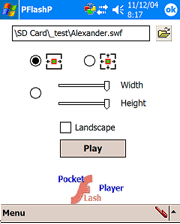 Flash Player 7 For Pocket PC is a popular platform for mobile devices that supports a wide range of multimedia features. Flash Player 7 for Pocket PC enables developers and publishers to quickly and easily deploy rich interactive Flash content and applications for Windows Mobile 5 and Pocket PC 2003 devices. Developers can view Flash content within Pocket IE or full-screen using third-party software, or deploy stand-alone Flash applications, which requires the Distribution Kit.Flash Player 7 for Pocket PC enables rich experiences, and offers improved performance and extended platform support for maximum portability to consumer electronics devices worldwide, supporting Web browsing, Flash Player 7, Action Script 2 , XML socket ,Web services and SOAP API. Flash Player 7 for pocket PC Download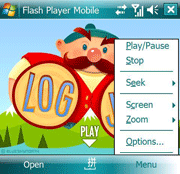 Flash Player Mobile is a Standalone Flash Player for Pocket PC which enables you to play Flash Movies in your Pocket PC device outside Pocket Internet Explorer both in full screen mode and in landscape mode. Flash Player Mobile is a tool that is used to play flash movies with .swf extensions on the Pocket PC hand held device is called Flash Player Mobile. The utility is a standalone feature and supports flash movies to be played either in the landscape mode or the full screen mode.To use Flash Player Mobile, you should first install Macromedia Flash ActiveX for Pocket PC.
Flash Player Mobile can play movies in both full screen and landscape modes ,supporting VGA and Square Screen Aware , compatible with WM5/WM6 and give the provision to seek the flash movie randomly to any particular position and play from there. This is done via the Progress Bar, which can open the flash files in Internet Explorer through SWF file association, seek to any position of Flash Movies and zoom SWF from 100% to 150% . Flash Player Mobile Download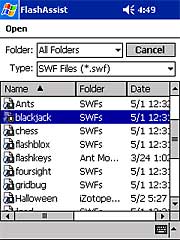 FlashAssist is the best way to view Macromedia Flash content on the Pocket PC. FlashAssist eliminates the many limitations with using Pocket Internet Explorer to view Flash files. FlashAssist Version 1.3 runs on Pocket PC, Pocket PC 2002 and Windows Mobile 2003 for Pocket PC,supporting FLV,SWF,etc.

FlashAssist Version 1.3 supports command line options. a You can supply SF oWr HTML filename which FlashAssist will open upon launch and you can specify which window size to use.There are three key benefits to using the command-line interface: you can specify a file in any directory on the Pocket PC. The Microsoft file browser only allows you to open files under a My Documents folder at the top level of the device or a storage card; when the command line option is used, the option to exit fullscreen mode using the Pocket PC buttons is disabled.
Make sure you use the FLASHASSIST_QUIT feature described above;you can create a shortcut that lets you open your Flash content file in extended or fullscreen mode with one tap from anywhere on the Pocket PC. You Flash content can feel "almost like an app". You can also create a shortcut using the command line interface and select a different window size. FlashAssist for Pocket PC Download