How to burn NSV to DVD and convert NSV to AVI? ?
What is NSV?
Nullsoft Streaming Video (NSV) is a media container designed for streaming video content over the internet. NSV was developed by Nullsoft, the makers of Winamp. Some key features of NSV are:
NSV supports nearly any combination of audio and video compressor.
NSV is a bitstream format, meaning that it has no requirement of a whole file or beginning of file to achieve play back. If you have the middle 1/3 of a 30 minute .NSV file, you can play back approximately 10 minutes of the contents.
NSV's bitstream format is suitable for streaming; accurate synchronization can be acquired at any point in the stream.
NSV supports auxiliary data chunks for sending multiple audio tracks, subtitles, or other data.
NSV was developed by Nullsoft corporation, the same company that produced the popular Winamp and Shoutcast streaming audio software.
NSV consists of free software to encode, stream and view video. There are additional third party NSV applications being developed and distributed by stations and users. Additional software can be purchased from outside commercial software vendors as well.
NSV was one of the first to break the restrictive Internet video broadcast barrier and allows anyone the ability to produce and distribute live or recorded video content.
Why do you choose VSO ConvertXtoDVD ?
VSO ConvertXtoDVD is a multifunctional DVD Creator, which can give you a good many advantages to convert multiple video formats to DVD. Reasons to choose VSO ConvertXtoDVD just as below:

* Convert all popular video formats to DVD and burn to DVD disc, such as: AVI, DivX, XviD, MOV, MKV, FLV, MPEG-1, MPEG-2, MPEG-4, NSV, DVR-MS, TIVS, TS, IFO, VOB, ASF, WMV, Real Media, RM, RMVB, OGM, existing files from digital camcorders, TV/Sat, capture cards, etc.
* Support converting multiple audio tracks to DVD, such as: AC3, DTS, PCM, OGG, MP3, WMA and more...
* There are many settings that can be changed to personalize your conversions. The aspect ratio can be selected (4:3 or 16:9) as well as your choice for NTSC or PAL. You can create your own menu, merge files, add custom chapters, control burning speeds, and add original source files to the DVD.
* Easy to use and with high speed. Convert and burn your movie files to DVD in one click. Conversions are completed quickly, less than 1 hour your can convert 1 movie successfully and gives you the best quality possible.

This tutorial shows how to burn NSV to DVD and convert NSV to AVI step by step.
VSO ConvertXtoDVD is the video converter software to convert and burn your videos to DVD.
Step1. Download VSO ConvertXtoDVD, a powerful and simple program
Step2. Run ConvertXtoDVD.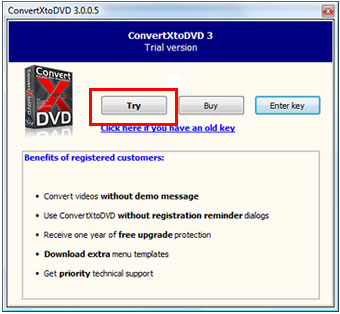 Step3. Add NSV file to VSO ConvertXtoDVD.
Add the NSV file(s) you want to convert, by simply clicking the "Add" button or via "File" - > Add video file: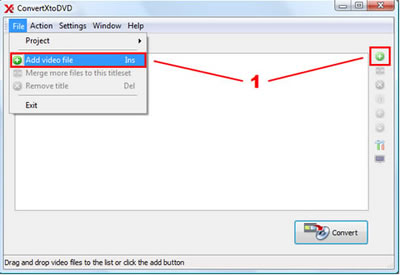 Once your video has been added, it will appear in the project tree as Titleset. Notice that whenever you add a video, the "conversion advisor" on the bottom left will display the expected quality of the output.

Step4. Setting.
Choose "General" in Settings list. You can select your working folder at here. You also can enable " Remember last folder ", " Flip preview ", " Check internet for upgrades ", etc or not. Theme area list a lot of different interface of it.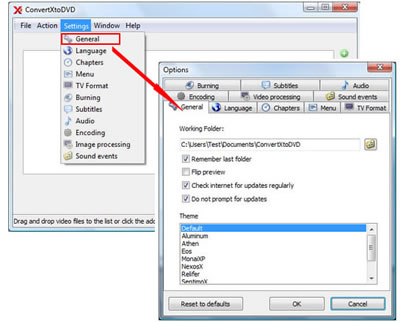 Other settings:
Language: Choose your language form here
Chapters: Define the longer of every chapter.
Menu: Select the menu type and items.
TV format: Choose video type and TV screen size.
Burning: Choose burning speed and SAO options
Subtitles: Choose subtitle language and more settings
Audio: Select audio language and volume
Encoding: Choose encoding quality and speed, target size, conversion priority.
Video processing: Video resize method.
Sound events: You can change sound in this program at here
Step5. Click "Convert" to convert NSV to DVD

Related Software Step by Step Guides and Tutorials:
How to Extract DVD audio tracks to MP3 step by step?
How to burn music to DVD step by step?
How to record TV on PC step by step?
How to convert flash to mpeg and burn Flash files to DVD, VCD and SVCD?
How to rip CD to MP3 step by step?
How to convert MPEG to MPEG4 video step by step?
How to convert MP3 to AAC?
How to convert Youtube to AVI, YouTube to WMV, YouTube to MP4?
How to convert DVD to Pocket PC video format WMV?