How to record Webinars, record Web Seminars with Replay Screencast?
Webinars, or Web Seminars, are becoming an increasingly popular way to share information over the internet. And with the right software, it's easy to save them forever as a Video file. It can take any application window, and record the movement (and associated audio) as a Windows Media video file. These .WMV files can be posted to Web sites, or emailed to colleagues, and are guaranteed to play on any PC.

Here's the step-by-step guide about how to record Webinars, record Web Seminars with Replay Screencast:

Step1. Please download Replay Screencast and install it.

Step2. Open Replay Screencast - it appears like this:




Step3. Click "Settings". The Settings dialog appears: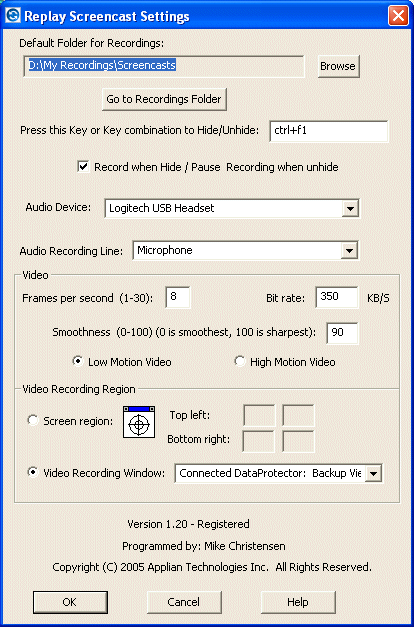 Step4. Choose "Low Motion Video", which works best for Webinars.

Step5. Choose a low "bit rate" and "frame rate". A bit rate of 100 Kbps should be fine. 8 frames per second will work well, too. Using lower bit rates and frame rates requires less of your PC's CPU to record.

Step6. Select "Video Recording Window".

Step7. Choose the application you want to record.

Step8. To record what's playing through your PC's speaker, choose the proper "Audio Recording Line". Stereo Mix, Wave Out Mix, Wave or What U Hear are options that may be available (different PCs have different options). Choose the best option.

Step9. Click OK.

Step10. Click Record.

Step11. Wait 2 seconds until Replay Screencast's status shows "Recording," as shown here:




Step12. Click "Stop" when you're done.

Note: Record screen activity as a video can require a lot of your PC's processing power. It's recommended to try a test video first to make sure the settings you've chosen work well. The higher quality video you make, the more processing power is required.



Related Article and Tutorials:
How to capture/record Youtube Video?
How to capture Streaming Windows Media Video Clips?
How to record Orb Video Streams?
How to record Sirius Radio Shows online?
How to record XM Radio Shows online?
How to capture/download Podcasts?