How to capture/download Podcasts with Replay A/V?
Podcasting is best described as "radio-on-demand." Fueled partly by general dissatisfaction with the limited choices on the radio dial, Podcasting has blossomed into a cornucopia of listening choices. There's a ton of independent music, as well as a variety of talk shows, both amateur and professional. Even the big broadcasters are getting in on the act.

Podcasts are kind of like the audio equivalent of blogs - they are set up so that smart software can check periodically for new shows, and then download those new shows to your PC, iPod or MP3 Player for listening anytime you like.

There are a lot of choices for downloading Podcasts. In this article, we're going to show how Replay A/V, one of the most popular commercial programs, can be set up to capture Podcasts. Replay A/V is especially good for long talk shows, as it has an option to make "bookmarkable" files from MP3 downloads. If you're an iPod user, a bookmarkable file works just like an audio book -- you can listen, pause, and then return to the last place you were listening, even if you've skipped to other audio or video files.

Here's step by step guide about how to capture/download Podcasts using Replay A/V:

Step1. Please download Replay A/V and install it.

Step2. Open Replay A/V. When you open the program the main screen looks like this: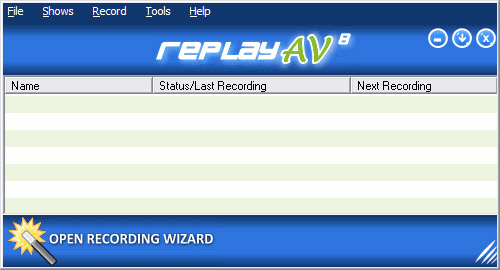 Step3. From the menu, click "Shows", "Add Podcast". The Media Guide appears on the Find Podcast screen: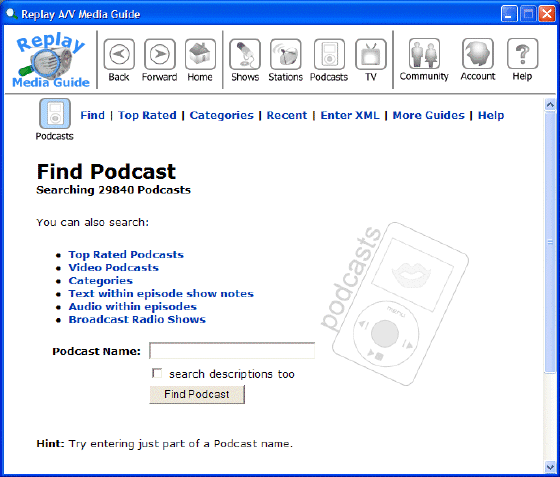 Step4. In this example, we'll look for the "Engadget" Podcast. Enter the Podcast name to locate, then click "Find Podcast". The results of your search appear like this: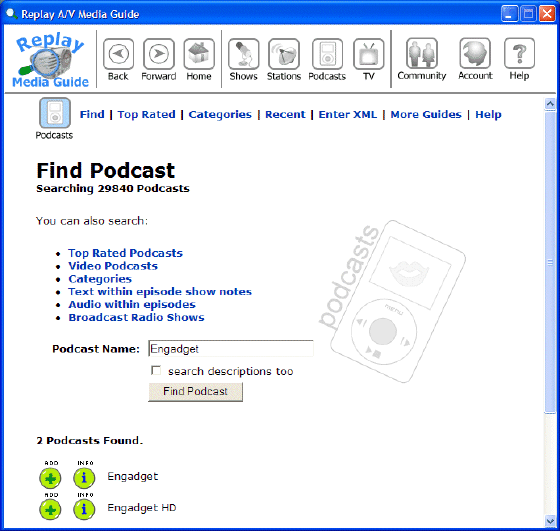 Step5. Click the

symbol to add the show to your recordings list. (If you want to learn more about the show, click the

symbol.) The new show (Engadget) appears in Replay A/V, as shown here: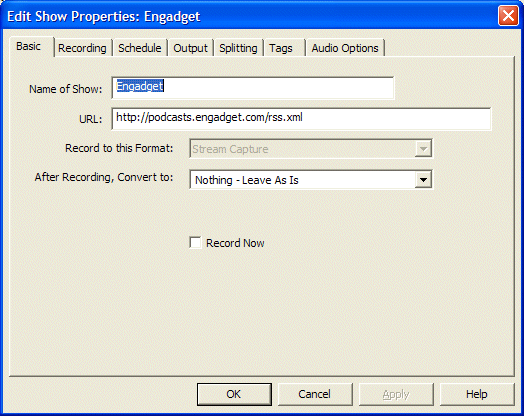 Step6. You can click the "Schedule" tab to determine when to check for new Podcasts for this show. (Note that Settings also has a Podcast schedule option which will check for ALL your subscribed Podcasts.)

Step7. To make a bookmarkable audio book file for your iPod, change the "After Recording", "Convert" to option to "Audio - M4B iPod Audiobook" like this: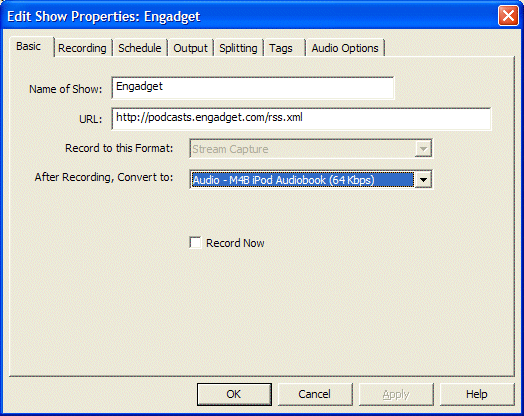 Step8. To have Podcasts added to iTunes automatically, go to the "Output" tab, and select "Add to iTunes Library":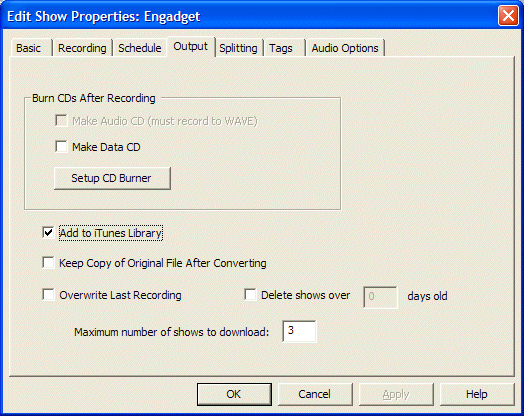 Step9. You're done! Click "OK" to add the Podcast to your recording list.


Related Article and Tutorials:
How to capture/record Youtube Video?
How to capture Streaming Windows Media Video Clips?
How to record Orb Video Streams?
How to record Sirius Radio Shows online?
How to record XM Radio Shows online?