How to record Sirius™ Radio Shows online with Replay A/V?
If you have a Sirius™ satellite radio subscription, you can record all the Sirius™ online channels and listen to them whenever you like with your Windows PC and the Replay A/V software package. It's simple and easy to do. Just about everything you can hear in your car, you can record from the online stream, including these favorites:
Howard Stern
Martha Stewart
The Who Channel
World Class Soccer
And more!
Start by downloading and installing Replay A/V from Applian Technologies. You can schedule and record your favorite shows as MP3 files, which play on any PC, iPod or MP3 Player. You can even burn shows to CDs, make iPod Audiobook files, or convert them to other formats. It's never been easier to listen to your favorite Sirius™ channels wherever and whenever you want.

Here is the step by step guide about how to record Sirius™ Radio Online with Replay A/V:

Step1. Please download Replay A/V and install it.

Step2. Open Replay A/V. When you open the program the main screen looks like this: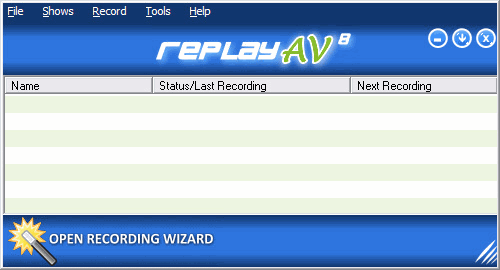 Step3. Click on the "Open Recording Wizard" button and the following screen will appear: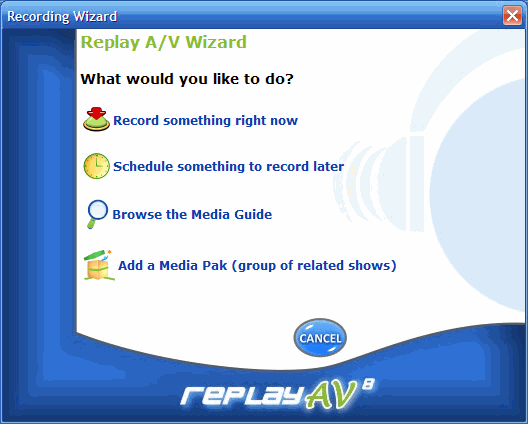 Step4. Click on the "Schedule something to record later" button. You will see this screen: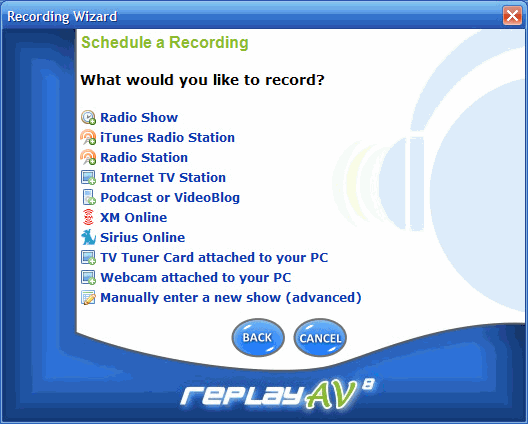 Step5. Scroll down to the "Sirius Online" button. The following screen appears: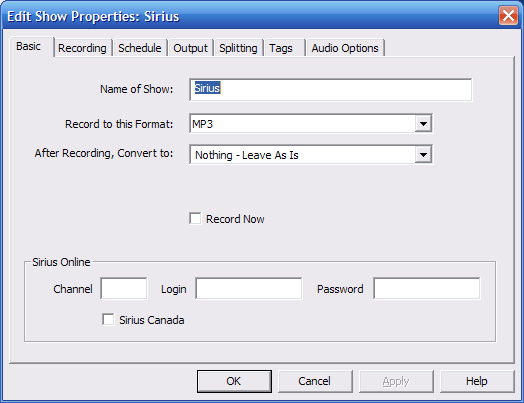 Step6. Enter the channel you want to record. (You can find the Sirius channel you want to record by going to Replay AV Media guide). Enter your Sirius™ login name and your password and click OK. You will now see your new show like this: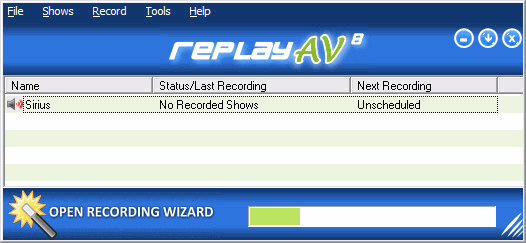 Step7. To start recording immediately, left click on the entry and choose the "Start Record/Download" button like this: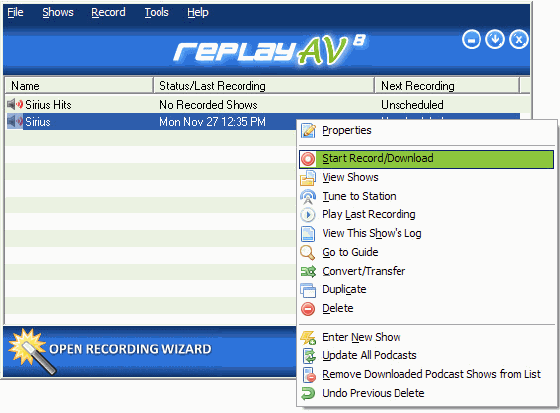 Step8. Replay AV will start recording your Sirius™ station in a few seconds. To stop the recording, left click on the Sirius™ entry and click Stop Recording.

Step9. To schedule automatic recordings on specific times and days, click the entry, then Properties, then the Schedule tab. Indicate when you would like the program to record for you. The settings you see below record Monday to Friday from 9:00am to 12:00pm: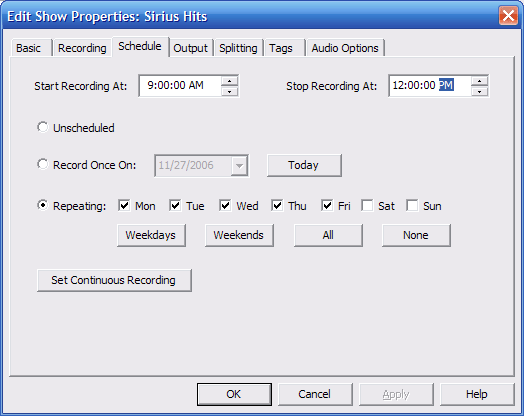 Just click OK and you are done.

Step10. Leave Replay A/V running, and when it's 9:00am (or whatever time you want the recording to start), Replay A/V will automatically tune in to Sirius™ and record it for you. It's that easy!


Related Article and Tutorials:
How to capture/record Youtube Video?
How to capture Streaming Windows Media Video Clips?
How to record Orb Video Streams?
How to record XM Radio Shows online?
How to capture/download Podcasts?