How to recover NTFS files with NTFS data recovery software ?
What is NTFS ?

Stands for "New Technology File System." NTFS is a file system introduced by Microsoft with Windows NT and is supported by subsequent versions of Windows, such as Windows 2000 and Windows XP. (The file system is how the operating system organizes and accesses files on the hard drive.)

NTFS has a number of advantages over the older file system, named FAT, or file allocation table. One major advantage of NTFS is that it incorporates features to improve reliablity. For exmaple, the new technology file system includes fault tolerance, which repairs hard drive errors without displaying error messages. It keeps detailed transaction logs, which tracks hard drive errors. This can help prevent hard disk failure as well as make it possible to recover files if the hard drive does fail.

Why do you need recover NTFS files?

If you have a Windows XP pro on my PC which is based on NTFS file system. By mistake, I formatted my PC partitions, and all my data lost. So How to recover data for NTFS file system? You accidentally delete important data from NTFS partitions, and virus attack your NTFS volumes. All you need is the professional NTFS data recovery software - Stellar Phoenix Windows Data Recovery to recover important data from lost, formatted, deleted NTFS and NTFS5 based partitions and volumes.


This tutorial shows how to recover NTFS files with NTFS data recovery software step by step.

Now, download Stellar Phoenix Windows Data Recovery and install it to your computer to experience the magical effect by yourself.

Step1. Initialize the program and choose formatted file recovery
After running this NTFS data recovery software , click Data Recovery > Formatted/Lost file & Folder Recovery button. This option not only repair the data from formatted volumes, but also can be used to recover lost files to scan every cluster of volume.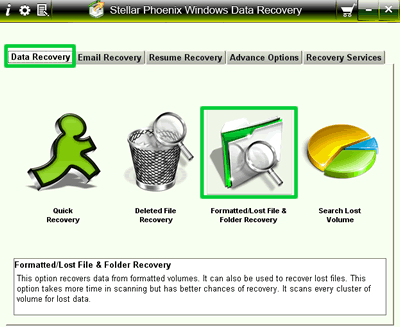 Step2. Select volumes to scan for lost or formatted data
In this step, you need to select the volume or removable media to scan for your deleted data. For we need recover data for NTFS, we need select the partition of your PC. Then click "Start Scan" button to fast scan your selected volumes.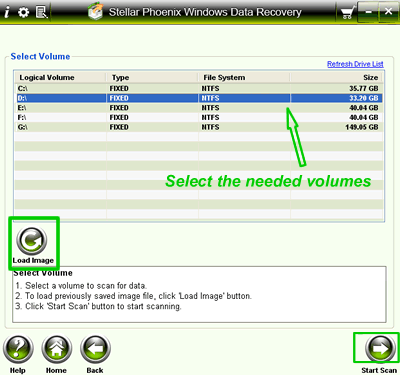 Tip: You can click Load Image button

to restart recovery by using a earlier scanning process. For example, you have saved scan information file of quick recovery's scanning process. You can use that image file to restart recovery. This saves time, since, scanning process does not performed.

Step3. Choose the scan mode
After finishing the above settings, it's time to choose Scan Mode. ' Quick Scan ' uses standard scan method to search deleted files. ' Deep Scan ' uses advanced scanning techniques and hence takes more time to search deleted files. Start Continue to scan the deleted files.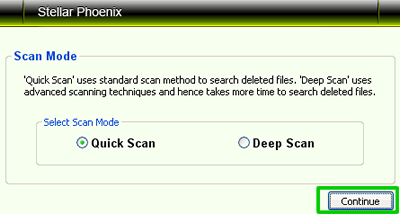 Step4. Start to recover and save the data.
A quick scan or deep scan, whichever is selected, will be performed on the selected volume or removable media. All files that are found are shown in a three pane structure. In the left pane, a tree structure according to folders is created. Top right pane shows preview of files. In bottom-right pane, all files that are stored in folders are listed. Double-click a folder to view files stored in that folder. Now click the Start button to recover data for NTFS. And save to the specified location where files should be saved.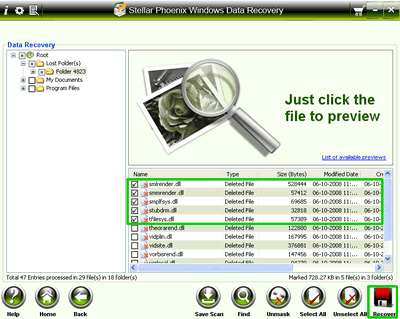 After following the above basic operation and optional steps, you can easily recover data for NTFS and save them in the safe places. So fast speed, so easy to use steps, so clear interface, all the features give you a good impression, now get the full version to enjoy it!

Related Software Step by Step Guides and Tutorials:
How to recover deleted file or folder?
How to recover lost deleted excel file?
How to recover deleted or lost photos, images and pictures?
How to Recover Deleted PST, WAB, PAB, DBX, Hotmail, Yahoo Email?
How to repair the purple video with EnhanceMovie?
How to recover files from formatted hard drives?
How to recover files from Raw Hard Drive?
How to recover lost files from re-partitioned hard drives?
How to recover hard disks involving Scandisk and Chkdsk error?
How to recover fdisked drives?
How to convert Text to PDF Document?