How to convert PDF to Excel document with PDF to Excel Converter?
PDF to Excel Converter converts PDF document to Excel document. It renders text and images to excel document. You can choice number of pages in a worksheet. No needed 3. party components.

Here's the step-by-step guide about how to convert PDF to Excel document with PDF to Excel Converter.

Step1. Download PDF to Excel Converter and install it.

Step2. Launch this program. The main interface is like the picture below.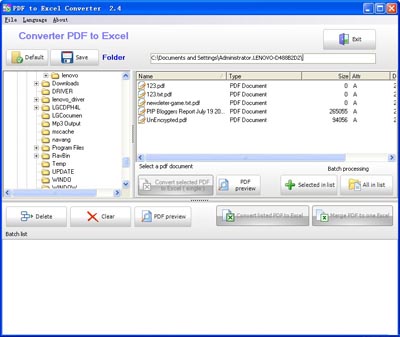 Step3. Click "Default" button to set the default folder of the source PDF folder. The PDF format files in the folder will be listed in the right list panel.

Step4. If you want to convert one of the listed files, just click it and then press the "Convert selected PDF to Excel (single)" button. Then, the dialog which shown below will popup to tell you the information of the PDF file.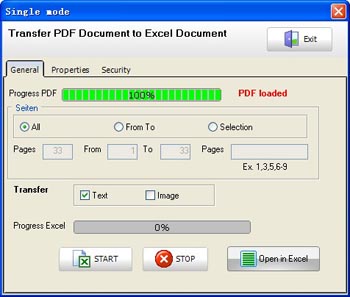 Step5. Click the "Start" button to start the conversion.

Step6. If you want to convert more than one files in the list, you should click on the file and press the "Selected in list" button or the "All in list" button.

Step7. When you finish listing the files to the Batch List Panel, press the "Convert listed PDF to Excel" button. And a dialog which is similar to the one in step 4 will popup and what you need to do is to click "Start".

What is PDF?

Short for Portable Document Format, a file format developed by Adobe Systems. PDF captures formatting information from a variety of desktop publishing applications, making it possible to send formatted documents and have them appear on the recipient's monitor or printer as they were intended. To view a file in PDF format, you need Adobe Reader, a free application distributed by Adobe Systems.


Related Article and Tutorials:
How to batch convert PDF to Text (txt)?
How to convert Text to PDF Document?
How to extract image from pdf document?
How to convert CSV to PDF, HTML, DBF, XLS, DOC, MDB, XML, VCS, CHM, RTF, HLP?