VfW Codec - VfW XviD H.264 AVI Codec for Windows
What is VfW Codec? - Video Codec for Windows Codec (VfW Codec, also referred to as Video Compression Manager (VCM)) was a multimedia framework developed by Microsoft that allowed Microsoft Windows to play digital video....
Get more information about Video Codec for Windows (VfW Codec) architecture. VfW Video Codec include: VfW XviD Codec, VfW H.264 Codec, X264 codec, VfW H.264 Codec and VfW AVI Codec for Windows Media Player. Following are several VfW Codecs for you to play H.264, XviD, AVI, MPEG, MPEG2, MPEG4 files.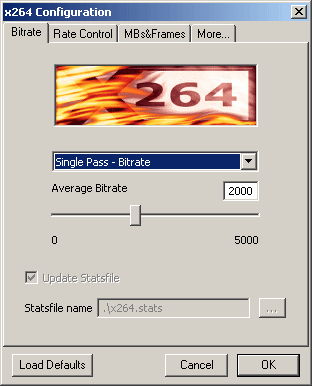 x264 - a free h264/avc encoder is a free library for encoding H264/AVC video streams.The code is written from scratch by Laurent Aimar, Loren Merritt, Eric Petit (OS X), Min Chen (vfw/asm), Justin Clay (vfw), Måns Rullgård, Radek Czyz, Christian Heine (asm), Alex Izvorski, Alex Wright and Jason Garrett-Glaser. It is released under the terms of the GNU GPL.
Encoder features
8x8 and 4x4 adaptive spatial transform
Adaptive B-frame placement
B-frames as references / arbitrary frame order
CAVLC/CABAC entropy coding
Custom quantization matrices
Intra: all macroblock types (16x16, 8x8, 4x4, and PCM with all predictions)
Inter P: all partitions (from 16x16 down to 4x4)
Inter B: partitions from 16x16 down to 8x8 (including skip/direct)
Interlacing (MBAFF)
Multiple reference frames
Ratecontrol: constant quantizer, constant quality, single or multipass ABR, optional VBV
Scenecut detection
Spatial and temporal direct mode in B-frames, adaptive mode selection
Parallel encoding on multiple CPUs
Predictive lossless mode
Psy optimizations for detail retention (adaptive quantization, psy-RD, psy-trellis)
Zones for arbitrarily adjusting bitrate distribution
x264 Video Codec Download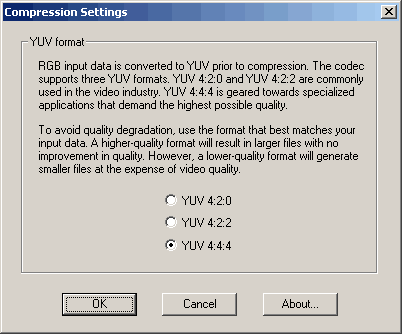 The Etymonix MPEG-2 I-frame Video Codec for Win95/98/Me/NT4/2000/XP is a software-only video compressor/decompressor based on the standard Video for Windows (VfW) architecture.

Etymonix MPEG-2 Video Codec can be used with a wide range of existing applications (such as Adobe Premiere, Fractal Design Painter, Ulead Video Studio, Ulead MediaStudio Pro, Windows Media Player, Macromedia Flash MX) that support VfW codecs. Typically, these applications will store the compressed MPEG data generated by the codec in an AVI file. A wide range of resolutions and frame rates (including NTSC and PAL) are also supported.

Etymonix MPEG-2 Video Codec is specifically engineered to preserve quality during image processing while providing better compression than lossless solutions.
Etymonix MPEG-2 Video Codec Download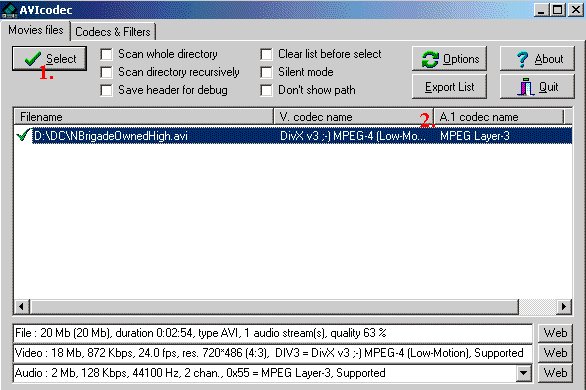 AVIcodec is a free multimedia file analyser for Windows. AVIcodec gives detailed information, especially the codecs needed to play the file, and where to download those codecs if they are missing on your system.

AVIcodec is a very useful tool that helps you identify the codec used by video files. As you may know, most video files have a simple AVI, MPEG etc. extensions, however some of them may require additional codecs like DivX or VCD and others. When trying to run such a file, and you don't have the proper codec installed, you will get an error message, or may be limited to audio playback only.

While AVIcodec does not provide you with the codecs, it makes it easy to identify the exact video type and the codecs required (if any). In addition, it provides links to online resources to find required codecs, and also displays a list of all codecs (with version) that are installed on your system. AVIcodec Download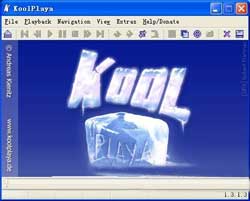 KoolPlaya will play any video file (Mac Video File Converter) if you have the appropriate codecs installed KoolPlaya can play any video file if you have the appropriate codecs installed and has lots of features.

Kool Playa Features

* media player for video and audio files
* supports every DirectShow codec out there like xvid, divx, avi, mpg, mpeg, mkv, wmv, mp3...
* dvd support (3rd party DirectShow dvd player has to be installed!)
* free zoom and fullscreen
* customizeable interface
* screenshot function
* import extra audiotrack
* easy internet-update (click help -> update)
* loop and partial loop
* multi language support (deutsch, english, espanol, francais, galego, italiano, magyar, nederlands, polski, russian, slovak and many more).. Kool Playa Download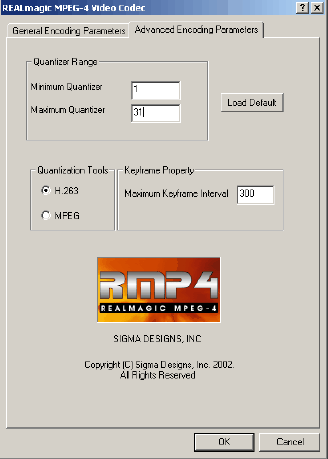 The REALmagic MPEG-4 Video Codec is compliant with ISO MPEG-4 Advanced Simple Profile level 5 (without quarter pixel (QPEL) and global motion compensation (GMC)). REALmagic MPEG-4 Video Codec is fully compatible with the REALmagic Xcard, Sigma Designs high-performance multimedia playback PC card. The REALmagic MPEG-4 Video Codec supports both progressive and interlaced video encoding with arbitrary bit rates, resolutions, and frame rates. REALmagic MPEG-4 Video Codec uses advanced encoding tools defined in MPEG-4 advanced simple profile to provide the highest video quality at low bit rates.

This document explains how to use the Video for Windows (VFW) interface of REALmagic MPEG-4 Video Codec, and how to configure the codec for optimum quality.

REALmagic MPEG-4 Video Codec includes four rate control modes: constant bit rate (CBR), variable bit rate (size), variable bit rate (quality) and variable bit rate (quantizer). REALmagic MPEG-4 Video Codec fully supports interlaced video encoding. Interlaced video is most commonly found in material intended for TV broadcast. Depending on your decoder, header information may cause compatibility issues during playback. The REALmagic Xcard supports RMP4, DX50, and DIVX.
REALmagic MPEG-4 Video Codec Download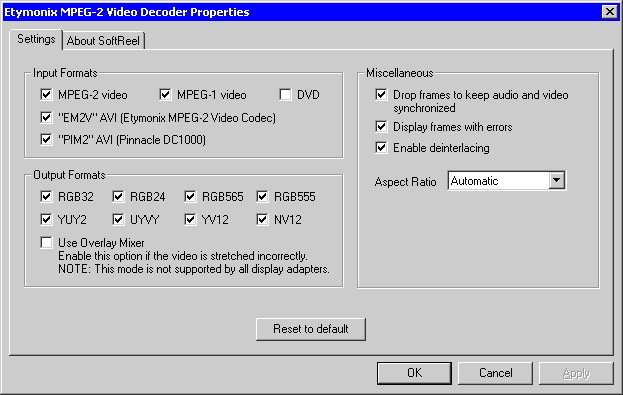 Etymonix SoftReel is a faster than real-time MPEG-2 video decoder that has been optimized extensively for single-core and multi-core systems. It enables smooth high-quality playback of native MPEG-2 video files (MPG, VOB, DAT, M2P, M2V, ATI MP2) and compatible AVI files ('EM2V' and 'PIM2' formats) up to HD 1920x1152 in Windows Media Player and other DirectShow-compatible applications.
SoftReel's robust design makes it resilient to bitstream errors (e.g. from transmission glitches or scratched video discs). It has been extensively tested on a wide range of x86 processors and Windows operating systems.
Its key features are:
- Compatible with ISO/IEC 13818-2 (MPEG-2 video) and ISO/IEC 11172-2 (MPEG-1 video) International Standards
- Decodes MPEG-2 standard-definition (SD) and high-definition (HD) video streams up to 1920x1152, including:
- Unencrypted DVDs with MPEG-2 audio (a third-party audio decoder is required for AC-3 audio)
- MPEG-1 video
- Super Video CD (SVCD), China Video Disc (CVD) and Video CD (VCD). Etymonix SoftReel Download