XLSX Viewer & XLSX Reader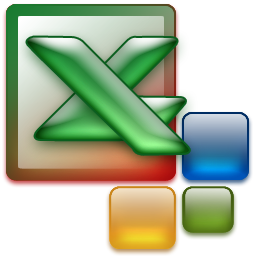 What is XLSX? XLSX is the new format for Microsoft Office documents. It is a combination of XML architecture and ZIP compression for size reduction. XLSX files are backwards compatible with Microsoft Excel 2000 and 2003 via component support; they are also recognized by Microsoft Windows Server with the GemBox.Spreadsheet .NET component. It is compatible with Microsoft Excel 2007. New file extensions and file formats for Excel Spreadsheets based on Open XML data format.
The new formats XLSX improve file and data management, data recovery, and interoperability with line-of-business systems. They extend what is possible with the binary files of earlier versions. Any application that supports XML can access and work with data in the new file format. The application does not need to be part of the Microsoft Office system or even a Microsoft product. Users can also use standard transformations to extract or repurpose the data. In addition, security concerns are drastically reduced because the information is stored in XML, which is essentially plain text. Thus, the data can pass through corporate firewalls without hindrance.
XLSX Viewer & XLSX Reader are those softwares can you view or read xlsx files without any office or excel installed. Here are the best xlsx view & xlsx readers.
I find a very excellent software - Bytescout XLS Viewer which can view xlsx files, read xlsx files. Bytescout XLS Viewer is able to open, view and print XLS, XLSX files (Excel documents), ODS (Open Office) without Microsoft Office of Microsoft Excel installed. Also supports export into HTML format (.html). Freeware XLS Viewer is based on our Bytescout XLS SDK for .NET developers
Bytescout XLS Viewer view XLS, XLSX, ODS files with Excel or Open Office! It is a free software. CSV and TXT (delimited values) files support added minor bug-fixes and improvements. Latest Changes are including: XLS and ODS formats handling improved, Bug with negative values incorrectly displayed fixed, Minor bug-fixes and improvements.
I recommend docXConverter. You have received a file from the new Office 2007 or from AppleWorks and cannot open it, if this file is a Word file (generally with the extension docx), an Excel file (generally with the extension xlsx) or an AppleWorks file (generally with the extension cwk), you can choose docXConverter. docXConverter allows you to easily open and use files saved in the new Word 2007 format docx, in the new Excel 2007 format xlsx and in the AppleWorks/ClarisWorks format cwk, even if the programs installed on your computer are not capable of opening docx, xlsx or cwk files.
docXConverter reads the docx, xlsx or cwk file you want to access, converts it to RTF (Rich Text Format) or CSV (Comma separated values) that are easily read by standard computer programs and instructs one of your programs to open the converted file. All this is done seamlessly and does not get in your way. The initial set-up of docXConverter is done automatically; you can be up and running in seconds. You can also adjust the settings according to your specific configurations or needs.
docXConverter converts the xlsx format to CSV while preserving the data as it is displayed in the original spreadsheet as well as the row, column and cell structure of the original xlsx document. docXConverter Download
icXL is an excellent xlsx viewer, I recommend it! It enables you to work with Microsoft Excel spreadsheets created on both PCs and Macs. With icXL, you can open, view and print Excel(xls, xlsx, xlsm files) and AppleWorks spreadsheets without installing Microsoft Excel on your computer!
icXL displays the entire contents of the original Excel spreadsheet. It is a "text only" readable solution.!
icXL has a sophisticated font matching mechanism that displays the font closest to the one used in the original Excel document. You can easily customize the font substitution mechanism in order to improve screen viewing and to facilitate exporting the text to other applications. icXL Download
Bytescout Spreadsheet SDK for .NET provides WinForms and ASP.NET control and classes to write, read, modify, calculate XLS, XSLX, ODS, CSV spreadsheet files WITHOUT Office required.
Excel (or any other spreadsheet software) NOT REQUIRED; Writing for XLS, HTML, TXT, CSV, XML support; Reading for CSV, XLS (Office 97-2003), XLSX (Office 2007) and ODS (Open Office Calc) support; Formula calculations (standard functions, add-in formulas like XIRR) support; XLS Excel documents reading support; Can be used in Visual C#, Visual Basic.NET and ASP.NET; Cells, columns, rows, worksheets support; Unicode support; Cells formating (font, color, border style, lignment) is supported; Capable of changing existing Excel documents (change data and save modifed document, add or remove rows, columns); Export XLS into CSV, TXT, HTML and XML; Reading of XLS document files is supported (sample: how to read data from XLS Excel document into dataset); Bytescout Spreadsheet SDK for .NET Download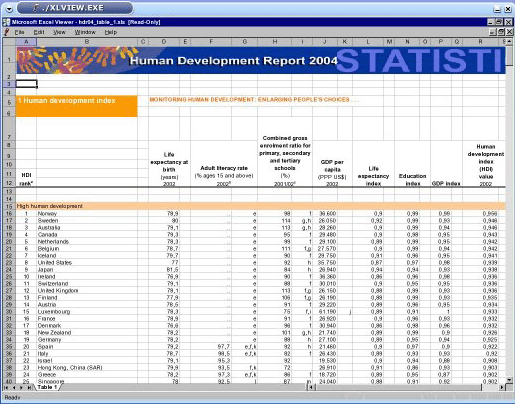 With Excel Viewer 2003, you can open, view, and print Excel workbooks, even if you don't have Excel installed. You can also copy data from Excel Viewer 2003 to another program. However, you cannot edit data, save a workbook, or create a new workbook. This download is a replacement for Excel Viewer 97 and all previous Excel Viewer versions.

Compatibility Pack for the Word, Excel, and PowerPoint 2007 File Formats

To reduce file size, improve reliability, and enhance integration with external sources, Microsoft has added new file formats to Word 2007, Excel 2007, and PowerPoint 2007. To help ensure that you can open files in these new formats, Microsoft has developed a Compatibility Pack for the Word, Excel, and PowerPoint 2007 File Formats. By installing the Compatibility Pack after you install the Excel Viewer 2003, you can view documents that are saved in the following new document formats:

* Microsoft Office Excel 2007 document (.xlsx)
* Microsoft Office Excel 2007 macro-enabled document (.xlsm)... Excel Viewer Download

Now I recommend a XLSX viewer - File Viewer. It is an multi purpose Disk/File Management Program with functions for finding, viewing, printing, emailing, and organizing Pictures, Images, Text, Documents, Database, and Spread Sheet Files. Multimedia Files, including MP3, AVI, MPG, MOV, WMF, WMA, MID, RMI, and WAV, are easily located, played and Organized using File Viewer.
With this software, you can view Text, DOC (Word), HTM, HTML, SHTML, SHTM, ASP, PNP, PDF, RTF, WRI, SYS, BAT, BAK, LST, INI, DOS, WPS, DBF (DBase, FoxPro), DB, MDB (Access), and XLS, XLSX(Excel 2000, 2007) together in a Multiple Document Interface window. Can quickly view Pictures of BMP, JPG, JPEG, EMF, WMF, ICO, CUR, TIF, PCX, PNG, PGM, PPM, PBM, TGA, PCD, PIX, RAS, FAX, RLE, and GIF format with thumbnails for a folder; Find and Play WAV, MID, RMI, WMA, WMV, AVI, MPG, MPEG, MOV, MP3, M3U, ASF, AIFF, MP2, and M1V files with Microsoft Media Player Component. File Viewer Download
Related XLSX Viewer & Reader Recommend and Download:

All to Pdf Converter - Create presonalized PDF from any file as office document(doc, docx, xlsx, xls, xlsm, ppt, etc),TIFF,HTMl etc. Download Now
office Convert Document To Pdf - Convert office document(word,excel,powerpoint, doc, docx, xlsx, xls, xlsm, ppt, etc) to PDF. Download Now
Doc Xls Ppt to Pdf Converter - Free easily create PDF from Word, Excel(xlsx,xls,xlsm), PowerPoint etc document in batches. Download Now
Office Security OwnerGuard - Office Security, DRM, Copy Protection and Distribution Management Solution for Excel Documents(xls, xlsx) .Download Now
Xls to Pdf Converter - Free batch convert Microsoft Excel spreadsheets to PDF table format with ease. Download Now
MS Excel Password Recovery Software - Utility display secret code of xls, xla, xlsx, xlm file created in any office edition. Download Now
Microsoft Office Compatibility Pack - supports playing AIFF, AU, AVI, GSM, MIDI, MP2, QT, RMF and WAV files. Download Now
All Office Converter Platinum - batch convert Word, Excel, PowerPoint, Website, Htm/Html, Jpg, PDF, Bmp, etc. Download Now
XLS Regenerator - XLS Regenerator recovers excel files even in the most desperate situations. Download Now
office Convert Word Excel PowerPoint To Text Converter - batch converting documents as Word (doc,docx,docm), Excel ( xls,xlsm,xlsx) PowerPoint (ppt,pptx,pptm) rtf,txt. Download Now