How to convert ISO to CSO or convert CSO to ISO?
What is ISO?
A valid ISO image is an uncompressed collection of various files merged into one single resulting file, according to definite and standard formatting. An ISO image (or .ISO file) is a computer file that is an exact copy of an existing file system. An ISO can contain the entire contents of a CD-ROM disc or CD medium, includes the data saved on the disc as well as the filesystem information, such as directory structures, file attributes, and boot code. They are stored in an uncompressed format. ISO files are useful for duplicating or backing up CDs and DVDs because they copy every bit of data exactly from the disc; this is different than copying all files from a disc because the disc header information is lost in the process; an ISO file can be used to restore a disc exactly to the original version.
What is CSO?
CSO is a compressed .ISO disk image format used for archiving PlayStation Portable (PSP) games; may include up to nine levels of compression, but higher amounts of compression may cause the disk image to load slowly.
This tutorial will tell you how to convert ISO to CSO and convert CSO to ISO with PSP ISO Compressor.
Step1. Please download PSP ISO Compressor and install it.
Step2. Run PSP ISO Compressor, and you will see the main interface, please select Compress ISO->CSO.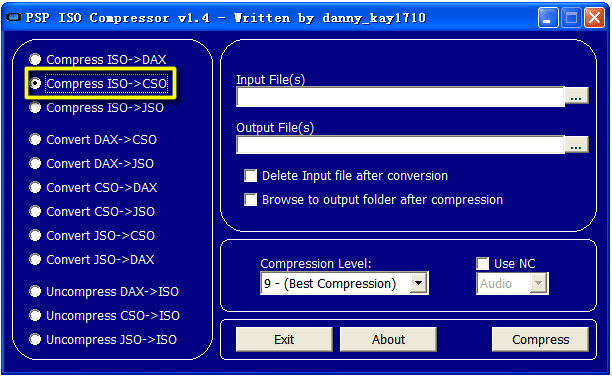 Step3. Select the .iso file you want to compress and press Compress.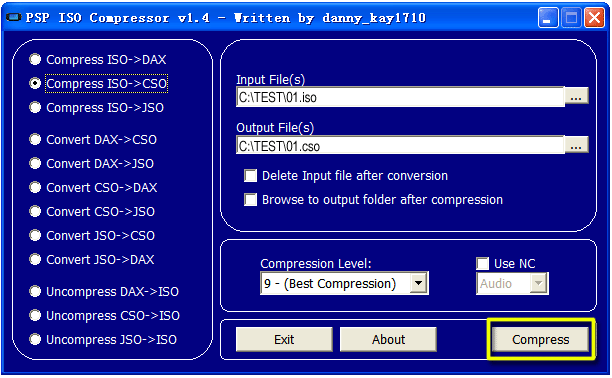 Step4. Place the .cso file into your ISO folder. Done.
If you want to convert CSO to ISO, just select Uncompress CSO->ISO and follow the above steps.
Related Software Step by Step Guides and Tutorials:
How to convert BIN to ISO image format with BIN to ISO converter?
How to convert ISO to BIN image format with ISO to BIN converter?
How to burn ISO to CD/DVD with ISO to CD/DVD burner software?
How to convert ISO to AVI with ISO to AVI converter software?
How to make ISO from CD-ROM with ISO converter?
How to convert DjVu files to PDF with document converter?
How to convert OGM to AVI/MP4/DVD/MOV with OGM converter?
How to convert DBX to PST, EML with DBX Converter?
How to convert AVI to PSP (MP4, H.264/MPEG-4) step by step?