How to capture screen, make video guide with Screen Capture software?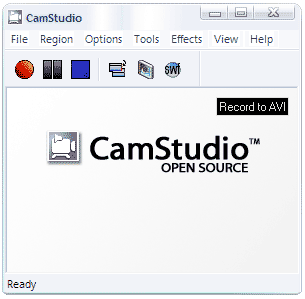 Do you ever feel annoying with writing guide? Do you know how to make a video guide with screen recorder? Does anyone would like to make a video guide but do not know which screen recorder to choose and how to achieve it?
RenderSoft CamStudio is a Screen Capture software to capture screen activity into standard AVI video files. If you move the cursor, launch a new program, type some text, click a few buttons, or select some menus, anything that you see on your screen, this screen recorder will be able to record all these and allow you to play them back later on.
The Features of CamStudio include:
* You can use it to create demonstration videos for any software program
* Or how about creating a set of videos answering your most frequently asked questions?
* You can create video tutorials for school or college class
* You can use it to record a recurring problem with your computer so you can show technical support people
* You can use it to create video-based information products you can sell
* You can even use it to record new tricks and techniques you discover on your favourite software program, before you forget them
Now let's learn how to make a video guide with screen recorder
Step1. Download RenderSoft CamStudio. Install it.
Step2. Setting Regions of video guide
To capture screen you should set the Input Region first. This allows you to define the area and type of video guide. From the main menu, choose Region. There are 3 types of regions you can choose: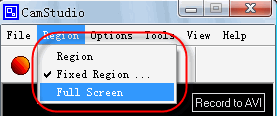 1) Region
Before the screen recording starts, you can define an arbitrary rectangular region with the mouse.
Tip: The cursor turns into a pen on cross-hairs, which you use to define a rectangular region on your screen by click-dragging the left mouse button.
2) Fixed Region
You can capture screen in a fixed-size rectangular region. A dialog allows you to define the size of the region in pixels.
3) Full Screen
The screen recorder will capture the full screen to make your video guide.
Step3. Setting Video Options. Open the video option panel.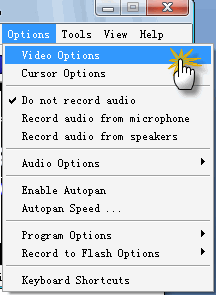 Setting the video options allows you to optimize your screen capture by choosing between the file size, quality and frame rates of your video guide.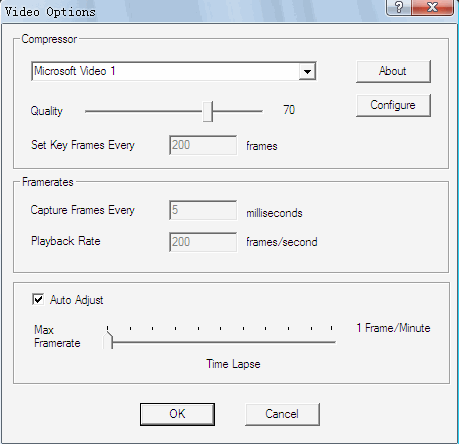 Step4. Setting Audio Options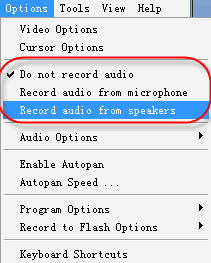 1) Recording Audio from Microphone
You can add a soundtrack to your video guide by selecting this option. When enabled, CamStudio will record your voice input from the microphone while it is capturing screen.  You need a sound card with an attached microphone to use this option.
2) Recording Audio from Speakers
By selecting this option, CamStudio will record the output from your speakers while it is capturing screen. This is ideal for recording a gaming session or a movie stream. You will need a sound card with speakers attached to use this option.
Step5. Start the recording
There are two methods to start the screen capture. One is clicking the "Record" button. The other way is press the shortcuts key. The default starting key is "F8" and stopping key is "F9".

Tip: You can set the shortcut key at "Keyboard Shortcut" panel.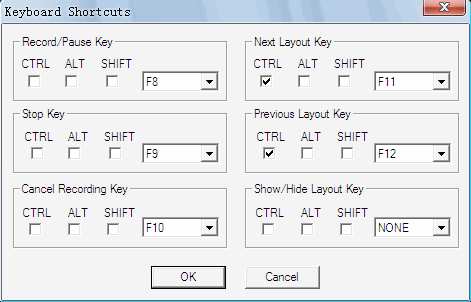 When you finish the screen capture, click the stop button or press the shortcut stop key. CamStudio will ask you the video guide name and destination to save.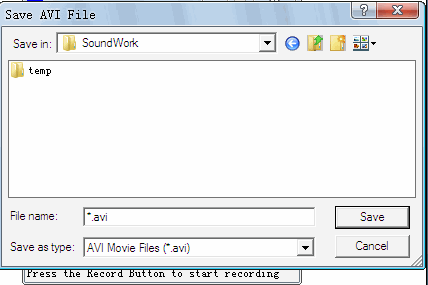 It is the end of the guide. Do you know how to make a video guide now? Many screen recorders can capture screen to make a video guide. But different screen capture software have different features, therefore which screen recorder to select depends on your favorite. Try it now!
Related Software Step by Step Guides and Tutorials:
How to capture or record digital audio?
How to save/download/capture/rip/record RTSP streams?
How to capture or convert DVD movie to Bitmaps(bmp) image step by step?
How to capture/record Youtube Video?
How to capture Streaming Windows Media Video Clips?
How to capture/download Podcasts?
How to Capture SWF Flash Files from Webpages with Infine Capture Flash?