How to record LPs and tapes to MP3, WAV, WMA Or OGG files?
Spin It Again is a piece of powerful software that can easily Record your old vinyl records and cassettes to CD.

Step1. DownloadSpin It Again from http://www.qweas.com/download/audio_mp3/audio_cd_burners/spin_it_again.htm and install it on your PC.

Step2. Hookup Your Record Or Cassette Player to Your Computer

Run the software and click "Hookup Wizard". It will guide you through a series of questions and show you photos and images to help you hook up your record or cassette player to your computer.





Step3. Get A Good Recording Level

The first time you run the software, it will ask you if you want to run the "Recording Level Wizard".Click "Yes" or click "Level Wizard"





Step4. Click "Record"

If you are recording a tape, make sure to rewind it. Click "Record" and start playing your record or tape. Once it is done, flip over the record or tape and play side two. When it's finished, click "Next" or "Stop".





Step5. Preview And Edit Your Recording

The software automatically splits your recording up into tracks. If there were any erroneous tracks created or if there was extra silence, you can edit it by clicking "Split" and/or by dragging the track markers.





Step6. Tag / Name Your Recording

Enter in the artist, album, genre and track names if your CD burner supports burning CD-Text. (This screen is more important when creating MP3s or other audio files.)





Step7. Pick A Destination & Format.

If you want to put it on an MP3 player, make sure it's plugged in and then click "Choose" and select it from the list. Otherwise, choose a folder on your computer. You can also choose a format (MP3, OGG, WAV or WMA) and click "Details" to change the bit rate and other advanced settings.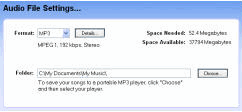 Click "Next" and it will create your audio files!




Related Software Step by Step Guides and Tutorials:
How To Record LPs and Tapes To CDs?
How to transfer music from iPod to Mac/iTunes?
How to reduce Tape Noise Hiss step by step?
How to record and send audio messages instead of ordinary e-mail?
How to record TV on PC step by step?
How to capture or record digital audio?
How to Reduce Clicks And Pops From A Record?
How to record Sirius Radio Shows online?
How to record XM Radio Shows online?
How to record iTunes radio stations onto iPod?