How to convert VHS tapes to DVD? VHS vs DVD reviews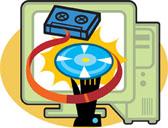 Converting Home Video System(VHS) to DVD is a great way to preserve, share and enhance those old tapes that may be aging not too gracefully and "do it yourself" tape to DVD conversion can be easy and affordable. If you want to transfer VHS to DVD, several options exist for the VHS to DVD conversion and, if done right, the DVD's can look even better than the original VHS tapes (for simplicity sake I use VHS, but this process also applies to VHS-C, SVHS, Hi8, regular, even Beta).
To capture the video from VHS you need to use either a Video capture card or an easier to use USB video capture device. The Roxio Easy VHS to DVD bundle includes the VHS capture USB device + the easy to use software from which you can capture, edit, and burn your VHS video to a DVD disc.

How to Convert VHS tapes to DVD?
There are a few methods to convert VHS to DVD, now let's learn the detail.
1. VHS tapes into DVD movies with Roxio Easy VHS to DVD
Use Roxio Easy VHS to DVD for Mac to burn VHS into DVD movies, you will need the following hardware and software:
1. Macintosh computer with a Dual Processor PowerPC G5, or Intel processor;
2. DVD recordable drive for DVD-Video creation;
3. Mac OS X 10.4 or 10.5;
4. 512MB RAM;
5. Available USB 2.0 port;
6. iMovie HD, 08, or 09.
Step 1. Download Roxio Easy VHS to DVD bundle and install it!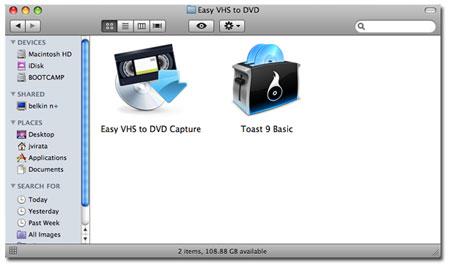 | | | | | |
| --- | --- | --- | --- | --- |
| Step 2. Start with your VCR or camcorder, Roxio Easy VHS to DVD makes it easy to transfer video from VHS tapes or analog camcorders to DVD. | | Step 3.Connect to your PC and capture. Capture your VHS tape videos and burn them directly to DVD discs. Roxio VHS to DVD supports most analog camcorders, VCRs, and even DVD players. | | Step 4. Edit and share, Correct video quality, add transitions, and add Hollywood-style menus and chapters. Then, share with family and friends on DVD. Or, easily transfer your videos to an iPod or a PSP, for on-the-go viewing. |
Other software copy VHS old movies to DVD, Burn VHS to DVD, transfer VHS to DVD
2. Convert VHS Tapes To DVD Using Your Video Camera

Step 1.You could use your difital video camcorder as a middle man in converting your old VHS tapes onto DVD. To do this you'll need to hook up your digital video camcorder to your VHS Player.
Step 2. Hooking up your digital video camcorder to your VHS player is accomplished by using composite video cables hooked from the VHS player's video/audio out ports to the input ports on your digital video camcorder.
Step 3. After the transfer from VHS to your camcorder is complete, you change the cable to go from your camcorder's output to your DVD Recorders input, insert blank DVD media into the DVD Recorder, and you're done.
3. Transfer VHS to DVD with a DVD Recorder
Connect your VHS VCR or camcorder to a standalone DVD recorder that works much like a VCR. This VHS to DVD recorder basically gives you a DVD copy of your tape in real time. You don't have a lot of flexibility as far as menus, buttons and chapter settings, but it's the fastest and easiest way to convert VHS to DVD. If you get a "DVD VCR"with Firewire connections you can plug a DV/Digital8/DVCAM camcorder or VCR into it and transfer the tapes to DVD at even higher quality than by using the analog connections.
Step 1. Connect the DVD recorder to the video source. This could be a VHS camcorder or a VHS player.
Step 2. Select your recording media. Most DVD recorders burn onto DVD-R, DVD-RW, DVD+R and DVD+RW.
Step 3. Set your DVD recorder up to preview the input signal. Normally you will press record and pause.
Step 4. Position the VHS tape source to the beginning and check the recorder's input. Begin the recording and start playing the VHS source.
Step 5. Watch the recording or plan to stop the process at the end. If desired, add another tape or passage to the recording. Finish.
VHS vs DVD reviews
DVD video discs have several advantages over the outdated VHS tapes, including quality, content and video navigation. The discs and cases are obviously different, making storage situations different. The storage of the DVD discs and VHS video tapes present several considerations that may have an owner replace old VHS tapes with DVDs. Before converting a VHS tape collection to DVD, look at the pros and cons of both and which storage methods suit your personal collection. The detail differences between DVD and VHS are as follows:
| | | |
| --- | --- | --- |
| Functions: | makes it easy to record a program from television, especially if you don't own TiVo. | can now be accessed in computer , and usually contain extra features. |
| Cases: | cases including standard plastic case, cardboard snapping case, slim cases and special edition | VHS cases are easier to store because almost every VHS case is in the small packaging. |
| Size: | | |
| Considerations: | Storage of DVDs in high-heated areas needs to be watched over and properly taken care of. | high heat could easily damage disc data before it reaches through a VHS case. |
| Time Frame: | slowly wear out over time | slowly degrades the picture |
| Stacking: | Stacking DVD cases could cause damage to cases and DVDs to be scratched if they are loosened. | can stack higher and hold up for a long time, but if a case snaps, it is hard to repair and fix. |
| preserves speed : | | |
| sound quality: | | |
| picture quality: | | |
| Features: | enable much more, like skipping scenes and interactive menus. | enables a viewer to play, pause, stop, fast forward or rewind a tape. |
| Other: | can become scratched, and once scratched DVD will become permanently damaged | require tracking, assists in clearing up white, fuzzy interference. |
Related Software Step by Step Guides and Tutorials:
How to convert and burn VOB AVI to DVD step by step?
How to split MPEG, MPG, SVCD, DVD, VCD with Quick MPEG Splitter step by step?
How to copy DVD and play on PSP step by step?
How to copy DVD movies with dvdSanta step by step?
How to play DVD movie on my PC step by step?
How to rip DVD and put DVD on Zune step by step?
How to transfer photo to DVD, create slide show on DVD?