Duplicate Finder Introduction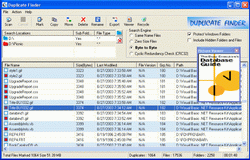 Duplicate File Finder is a powerful tool to locate file duplicates on your computer. It scans the computer and lists duplicate files based on byte by byte comparison, which ensures 100% accuracy. It can find duplicates of any files: text, binary, music, video or images. Duplicate files can be deleted, moved, or copied. The list of duplicate files can be sorted, exported to an HTML report, and acted upon.
You may not realize how many duplicate files you have on your computer, after numerous downloads from the Internet, or scattered over your home or corporate network. Duplicate files are in most cases redundant and unnecessary, so keeping them is merely a waste of hard disk space. Your hard drives may be full of extra copies of documents, MP3s, photos and videos waiting to be removed. Duplicate File Finder will help you reclaim your valuable disk space and improve data efficiency.
Some Duplicate Finder features:
Two powerful search engines (byte by byte and CRC32).


Find files with same contents, same name and zero size.


Find duplicate pictures, video, songs(mp3, wma, ogg).


Fastest among duplicate files finders.


Very user friendly, Specially design for novice users.


Works with removable media devices like Floppy, USB, etc.


Search local PC and over network.


Find duplicate files based on criteria : filename, byte to byte, CRC, etc.


Fuzzy Match for files with little differences.


Can find duplicate from a selected set of folders (i.e., not from whole drive).


Allows important folders you wish to be excluded from scanning altogether.


Can use wild cards and protects the windows and system folders.


Skips the hidden files and folder.


Show files version and properties.


Resizable popup picture viewer.


Save job session and results for later review.


Results can be exported in HTML and CSV formats.


Identify and recover wasted disk space.


Reducing the time and media used for backups.


Minimize time used to unneeded virus scanning.


Increase free space on "limited" resources, like laptops and memory disks.


Reduce files searching time.


Remove duplicate files to eliminate synchronization problems.


Runs much more quickly than others in its class, very safe and reliable.


and much much more...
System Requirements of Duplicate Finder:
Windows 9x, Windows 2000, Windows NT, Windows XP, Windows, Vista, Windows 2003 Server, Windows 7 etc.
DirectX 8.0 or later.
MMX-enhanced CPU or more powerful 32 MB RAM or more
Any VGA card