SoundTaxi Professional Introduction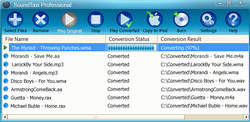 SoundTaxi is a powerful piece of software to convert almost any audio and video files, both protected and non-protected, to commonly used formats such as MP3, AAC, WAV audio, MPEG4, DivX video. SoundTaxi unprotects and converts songs and videos for use with any audio and video playing devices: iPod, iPhone, Zune, any portable HDD and Flash MP3, MP4 players (Sony, iriver, SanDisk, Creative, Cowon, Samsung, Philips and many others), home DVD players, CD players, car audio and video, mobile phones etc.
Before you start to use the program, we remind that SoundTaxi frees only the music and video you've purchased. So the main requirement is that you must be able to play your original files in Windows Media Player, QuickTime Player or Real Player on your PC (depending on the file format you're converting). As input files SoundTaxi supports practically any audio and video formats which can be played in Windows Media Player, QuickTime Player and Real Player.
If your original audio and video files contain information about artist name, album name, song name, genre, year – this information will be recorded in the converted files.
| | | | |
| --- | --- | --- | --- |
| | File size: 16.3MB | | Price: US$26.99 |
Some SoundTaxi Professional features:
very easy to use and install
converts any song that can be played with Media Player to MP3, AAC, WAV etc for use with iPod, any other MP3 player, CD player, mobile phone or PC
converts songs and movies for use with iPod, any other MP3 player, CD player, mobile phone or Personal Computer
converted songs and movies are playable with ANY device restriction anymore
converts practically ALL audio and video files batch mode for converting or unprotecting large song collections
allows to convert complete folder structures and recreates these structures on output
selectable compression level and output format
super fast conversion, up to 50x the playback speed in batch mode
can convert in HIFI and CD quality
SoundTaxi converts music and movie files from: iTunes , Napster , Zune , Yahoo Music , MusicMatch , MSNMusic , MusicLoad , MTV / urge , MusicNow , BuyMusic , AOL Music , Virgin Digital , Beon Music , Peer Impact , iMusica , Rhapsody , Wal-Mart , AOL MusicNow , Audible , connect-europe , akuma , Listen JP , ongen , hmv , Bigpond Music , Soundbuzz , digirama , imusica , cdigix , cingular mMode , puretracks , metro tunes , fnac
and much much more
System Requirements of SoundTaxi Professional:
Windows Vista x32, Windows XP x32 or Windows 2003 x32
256 Megabyte RAM
Windows Media Player, QuickTime Player or Real Player installed (depending on the file format you're converting)