Spyware Doctor Introduction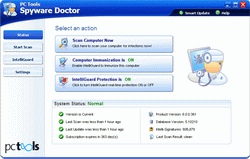 Spyware Doctor is a top-rated malware & spyware removal utility that detects, removes and protects your PC from thousands of potential spyware, adware, trojans, keyloggers, spybots and tracking threats. Protect your privacy and computing habits from prying eyes and virtual trespassers with the help of Spyware Doctor.
Spyware Doctor has been downloaded over 125 million times with millions more downloads every week. People worldwide use and trust Spyware Doctor to protect their PCs from spyware, adware and other online threats.
Spyware Doctor has the most advanced update feature that continually improves its Spyware fighting capabilities on daily basis. As Spyware gets more complex to avoid detection by AntiSpyware programs Spyware Doctor responds with new technology to stay one step ahead.
Spyware Doctor is advanced technology designed especially for people, not just experts. That is one reason why it won the People's Choice Award in 2005, 2006 and 2007. It is automatically configured out of the box to give you optimal protection with limited interaction so all you need to do is install it for immediate and ongoing protection.
| | | | |
| --- | --- | --- | --- |
| | File size: 11.5MB | | Price: US$29.95 |
Some Spyware Doctor key features:
Comprehensive Malware Protection: Spyware Doctor provides protection against identity theft, stealthy spyware, aggressive adware, browser hijackers, malicious ActiveX objects, malware Trojans, tracking cookies, keyloggers, dialers, and other malware. The optional anti-virus module also protects your computer from viruses, worms, Trojan horse threats, and other malicious infections.


Constant Real-time Protection: Through its unique IntelliGuard feature Spyware Doctor provides constant protection against malware. IntelliGuard works by blocking both known and unknown malware threats before they can install and cause any harm to a computer. IntelliGuard constantly monitors for malicious behavior involving spyware processes, tracking cookies, malicious ActiveX objects, browser hijackers, keyloggers, Trojans and more.


Advanced Detection and Removal Technology: By running an Intelli-Scan, Full Scan or Custom Scan, Spyware Doctor will inspect the computer for all types of spyware and virus infections. Spyware Doctor is top rated by industry experts as being extremely effective in removing particularly nefarious threats such as rootkits and keyloggers.


Protection against zero-day threats - Behavioral Heuristic Detection: Spyware Doctor delivers effective zero day protection against rootkits and keyloggers (in both scanning and IntelliGuard real-time areas) by monitoring for suspicious behavior and blocking applications that exhibit signs of malicious activity.


Advanced Rootkit Detection: Spyware Doctor is capable of detecting and removing hidden processes and files associated with complex threats and rootkits. Using behavioral techniques, rootkits and other items that attempt to hide themselves deep in the computer operating system are effectively detected and removed.


Works silently in the background with low CPU usage: When in monitoring mode Spyware Doctor has been designed to work silently in the background, with little impact to the end user, threats are blocked and removed without any system impact, while only a small alert window is displayed to advise the user it has been protected against an attack. When running a scan, the CPU Priority settings allow users to lower the priority of the scanning in order to reduce CPU usage and impact to the computer while in use. Selecting this option may increase scan time but will ease CPU usage when other applications are running at the same time.


Automatic and silent Smart Updates: Frequent updates to detect and guard computers against new threats and viruses as well as provide enhancements to Spyware Doctor are automatically installed and downloaded through the Smart Update function. Threat signatures are updated every business day or within hours of a high risk malware outbreak to protect you from the latest online threats.


Most internationally awarded anti-spyware product: Spyware Doctor is consistently awarded editors choice and top rating by numerous internationally recognized and respected industry publications, making Spyware Doctor the most internationally awarded anti-spyware product.


Better protection, better scanner, less impact.


Password protection to safeguard from exposure: Password Protection offers advanced customization to allow you to safeguard against unauthorized parties (users or malware) attempting to change key security settings, exposing your computer and leaving it vulnerable to attack. In particular you now have the ability to password protect changes to the program settings, shutdown and the real-time protection module, IntelliGuard.


No interruptions in full screen mode.


Enhanced user experience: Reduced reboots & simplified Smart Update and Quick right-click scanning.


Add-ons available to subscribers.


and much much more
System Requirements of Spyware Doctor:
Windows Vista 64-bit SP1, Vista 32-bit, XP (Home and Professional Editions) and 2000.
MMX-enhanced CPU or more powerful 32 MB RAM or more
Any VGA card