iRescue Introduction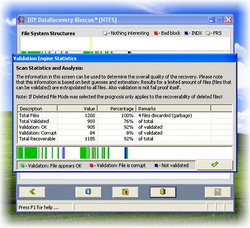 iRescue [NTFS] is a fast, safe and easy to use Windows XP/2003/Vista NTFS file recovery utility. iRescue uses a wizard type process that guides you through the procedure step by step. iRescue offers three modes of operation, covering the entire spectrum of NTFS data recovery scenarios:
Undelete mode: Recover deleted files.
Unformat mode: Recover files from formatted/damaged volumes.
Partition Recovery mode: Recover files from inaccessible volumes.
iRescue features a unique file validation function: files detected during a scan are examined and checked for typical characteristics for a given file type. The validation recognizes 18 common and frequently found file types. Based on results for individual files iRescue creates a prognosis for the quality of the entire file system that contains the files.
Some iRescue features:
Recover deleted files including those that were deleted from the Windows Recycle bin, or have been deleted by any other means.


Recover files from formatted NTFS drives, even after changing the format (to FAT or other types).


Recover from corrupt NTFS drives: iRescue allows access to drives on a physical level for severely corrupted file systems.


Recover files from deleted or otherwise lost volumes.


Ease of use: automatic file system parameter detection (such as cluster-size) for formatted or corrupt drives.


Recover files including the complete folder/file path.


Easy to use wizard-type interface.


Non destructive, read-only scan.


Attempts to lock the source drive to prevent Windows (or other processes) from overwriting lost or deleted files.


Unique data recoverability prediction for individual files and the entire volume.


Supports native NTFS compression (decompress data on-the-fly so data can be saved to drives that do not support NTFS compression, like FAT32).


Filters known garbage files to present a cleaner file list.


Customizable file filters.


iRescue is portable and does not require a setup; copy and run 'iRescue.exe' from anywhere you like (e.g. run from USB key or CD directly).


and much much more...
System Requirements of iRescue:
An Intel-compatible platform running Windows XP/Vista (or Windows server 2003 or later).
At least 256 MB of RAM (to run) and enough free disk space to store recovered files.
Memory- and disk space requirements may vary depending on the amount of data that needs to be recovered: if the volume containing the deleted files is large and nearly full, memory requirements may be higher.
Administrative privileges are required to run iRescue in Windows XP/Vista/2003.
iRescue recovers files from NTFS formatted volumes only. The target drive (the drive that will hold the recovered files) may be any format, as long as it is recognized by Windows.