Total Commander for PocketPC Introduction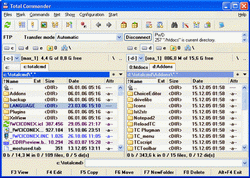 Total Commander (former Wincmd) is a file manager for Windows (TM) similar to the Windows Explorer. But Total Commander uses a different approach: it has two fixed windows side by side like a well-known file manager for DOS.
Some Total Commander for PocketPC features:
Copy, Move whole subdirs
Inplace rename, create dirs
Delete (no recycle bin)
Zip and unzip
Properties dialog, change attributes
Built-in text editor
Search function (also for text)
Select/unselect groups of files
Select with [Sel] button
FTP client
Registry editor
LAN access
Send/Receive via Infrared (OBEX)
Brief, full and large icons mode
Single or two file window mode
Option to hide all files in ROM
Directory hotlist as in Total Commander
Directory history through dropdown list
Tree view
Configurable button bar
Simple help function
Supported languages: English, German, Catalan, Czech, Danish, Dutch, French, Hungarian, Italian, Polish, Russian, Simplified Chinese, Spanish and Swedish
and much much more
System Requirements of Total Commander for PocketPC:
A Pocket PC or Pocket PC phone device: The text "PocketPC", "Windows Mobile" or "Windows-Powered" should be on the device!
The supported processors are: ARM, XSCALE, MIPS, SH3, X86
A Windows PC with installed ActiveSync >=3.x (for installing from a Mac, see below)
A version for other Windows CE devices is available separately, as well as a smartphone version
This program does NOT work on a Palm, Clié or Epoc system!