How to save all passwords typed in my Mac in an encrypted file?
What is FileVault?FileVault is a revolutionary file protection program that allows you to lock out personal files on your hard drive with a password. For each protected file, you have the choice of read-only or full-open protection. New in this release, FileVault has a DOD file shredder, system lock, stealth mode, and stronger file security. You can protect your files through an open-dialog box, or by dragging and dropping files. An extensive help system is included.
How to save all passwords typed in my Mac in an encrypted file with FileVault ?
Step 1 Log in as the Administrator or the master user of the computer. Initially, a master password will need to be set so that it may be used to monitor all passwords that are set up on the computer.
Step 2 Select the "Apple" icon, "System Preferences" and "Security."
Step 3 Choose the "Set Master Password" option.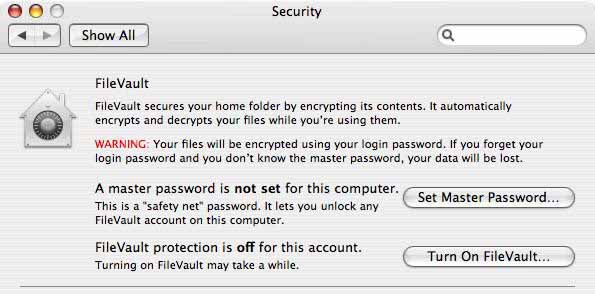 Step 4 Enter a password. It should be a combination of letters, numbers and symbols. Be sure to give hints that will make the password retrievable if forgotten. Log out as Administrator.
Step 5 Reenter the computer as the user who desires to encrypt files.
Step 6 Move all secure files to the Home folder. This is the folder with the user's name on it and the house icon. The encryption option works with the Home folder.
Step 7 Find the "Apple" icon in the top left corner and select it. Select System "Preferences" and then "Security."
Step 8 Click "Turn On FileVault" and enter the password that has been created. If the "Use Secure Erase" box is checked, files that are deleted and sent to the trash will also be secure. This will prevent other users from going into deleted items and retrieving them.
Step 9 Be prepared to wait. This process may take a while to complete.

Related Software Step by Step Guides and Tutorials:
How to decrypt protected PDF files with PDF Password Recovery software?

How to recover password for protected MS Backup (*.qic) files?

How to reset or change Admin/User password for Windows XP (SP1 and SP2), 2000, NT, and Server?

How to find or recover MSN Messenger and Windows Messenger passwords?

How to find or recover ICQ password step by step?

How to transfer Song from iPhone to Computer, iPhone to iTunes?