How to Transfer Contacts from your PC to iPhone?
The iPhone is a smartphone developed by Apple Inc. with functions of iPod, digital camera, internet, text messages (SMS), visual voicemail and Wi-Fi spot. The interaction with the user is done through a touch-sensitive screen. Apple reported more than two hundred patents related to technology that created the iPhone. Similar to previous iPods, the iPhone can organize your media library by songs, artists, albums, videos, playlists, genres, composers, podcasts, audiobooks, and compilations.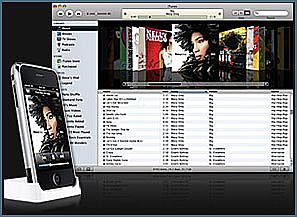 Step by Step Guide of How to Teansfer Contacts from your PC to iPhone
Step1: If you are using PC, follow this step and make sure the iTunes sync add-in is enabled in Outlook.
Outlook 2003
1. In Outlook, choose Tools > Options.
2. Click Other and then click Advanced Options.
3. Select COM add-ins and select the iTunes sync add-in and click OK.
4. Click Apply and then continue with the steps below.
Outlook 2007
1. In Outlook, choose Tools > Trust Center.
2. In the Categories pane, click Add-ins.
3. In the Details pane, locate the iTunes add-in in the "Inactive Application Add-ins" list.
4. In the Manage box, click COM Add-ins, and then click Go.
5. In the COM Add-Ins dialog box, select the iTunes sync add-in.
6. Click OK.
If you are Mac users, skip this step...
Step2. Connect iPhone
Connect iPhone to your computer using the included cable... and iTunes should open automatically.
Step3. Select iPhone in the iTunes Source pane.
Step4. Set Up Which Items Are Synced
1. Click the Info tab in iTunes, then do one of the following:
* If you're using a Mac, select "Sync Address Book contacts."
* If you're using a PC, select "Sync contacts from" and then choose Yahoo! Address Book, Windows Address Book, or Outlook from the pop-up menu.
2. Select "All contacts," or select "Selected groups" and select the groups you want to sync.
3. If you're using a Mac, select "Sync Yahoo! Address Book contacts" if you also want to sync with your Yahoo! contacts.
You only need to click Configure when you change your Yahoo! ID or password after you've set up syncing. Click Configure and enter your new login information.
Tips & Warnings
Syncing won't delete any contact in Yahoo! Address Book that contains a Messenger ID, even if you've deleted the contact from your address book on iPhone or your computer. To delete a contact containing a Messenger ID, log in to your Yahoo! account online and delete the contact using Yahoo! Address Book. On a Mac, when you sync Address Book contacts with iPhone, any other address books you've set to sync with .Mac, such as your contacts in Microsoft Entourage, will also be synced with iPhone.
Related Software Step by Step Guides and Tutorials:
DRM converter to convert DRM iTunes M4P to MP3 OGG WMA step by step guide.
How to convert DVD to iPhone on Mac OS X step by step?
How to convert DVD to MP4 for PSP iPod iPhone Apple TV on Mac?
Mac iTunes M4P converter to convert iTunes DRM protected m4p to mp3 aac aiff wav on Mac Guide.
How to convert MPEG WMV VOB MP4 AVI to iPhone Movies on Mac?
How to update ipod video through itunes step by step?
How to transfer Song from iPhone to Computer, iPhone to iTunes?