How to recover Outlook Express Emails with DBX files recovery software?
About DBX files
Each folder that you see in the Outlook Express Folder list is stored on your hard disk as a single file with the same name as the folder but with the extension DBX added at the end, such as "Inbox.dbx" and "Sent Items.dbx". All these DBX email archive files are stored in a single Windows folder called Store Folder. The Store Folder is usually located deep inside Documents and Settings folder in Windows 2000 and Windows XP, and is by default marked as a hidden folder. This makes it tricky to find your Store Folder in Windows Explorer, but there is a very good reason for this. One source of DBX corruption is trying to open and edit a DBX file yourself. It is sufficient to know that a message inside a DBX is not simply a string of text that you can read, but rather is broken up into parts, which are not assembled into a readable message until you access the related folder in Outlook Express. Also, please be aware that changing even a single byte in a DBX file might cause the file completely unusable by Outlook Express.
Outlook Express is a somewhat different application Microsoft Office Outlook email client. It is a simplified version of Outlook and as such is offered free bundled with Internet Explorer. Outlook proper comes as part of the Microsoft Office suite for Windows. Outlook uses .pst files. Express generally uses .dbx files for storing emails.
Outlook Express stores its email messages in different formats depending on the version.
* Outlook Express v 4, which shipped with Windows 98, stored messages in *.mbx files.
* Outlook Express v 5, which shipped with Windows 98SE, switched to *.dbx files, with a separate file for each mailbox folder.
* Outlook Express v 5.50 shipped with Windows 2000
* Outlook Express v 5.5 shipped with Windows Me
* Outlook Express v 6, which is included with Windows XP, also stores messages in *.dbx files.
As with all storage file systems they are especially prone to file loss and data corruption. This is due to several potential factors. These files are compacted and then reopened often. Anti-virus programs scan mail files. (These can alter file structure.)
This tutorial will tell you how to recover Outlook Express emails with Disk Doctor DBX Recovery software.
Step1. Please download Disk Doctors Email Recovery.
Step2. Install and run Disk Doctors Email Recovery, and you will see the main interface, please click "Select dbx".
Step3. Select an individual file or select folder. We select "File" in this case.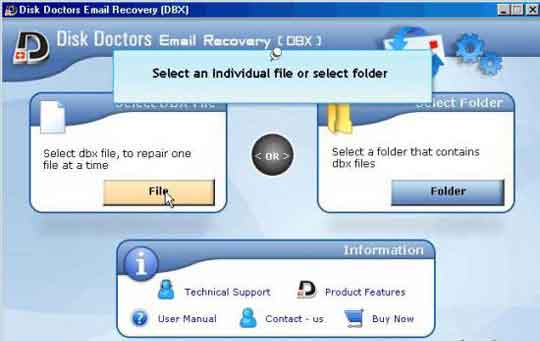 Step4. Please select a dbx file and click "Open" button, then click "Next" to continue.
Step5. Select the path where you want the recovered files to be restored.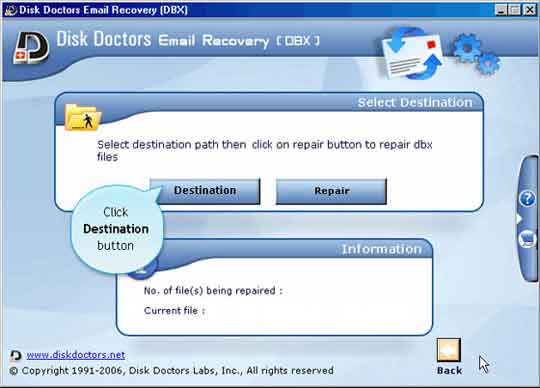 Step6. Create a new folder.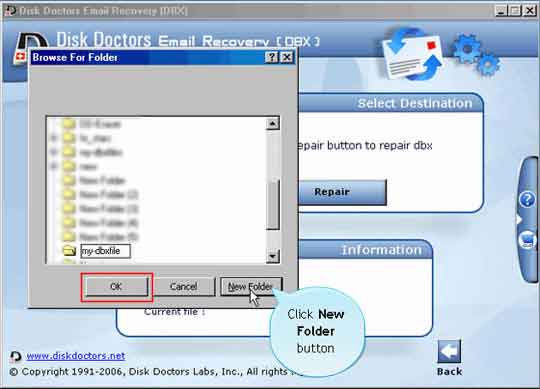 Step7. Click "Repair" button, now you just need to wait a moment before it tell you "Recovered Successfully".

Related Software Step by Step Guides and Tutorials:
How to recover MS Outlook PST files and import recovered PST files to MS Outlook?
How to recover password for protected MS Backup (*.qic) files?
How to recover deleted or lost photos, images and pictures?
How to Recover Deleted PST, WAB, PAB, DBX, Hotmail, Yahoo Email?
How to recover files from formatted hard drives?
How to recover files from Raw Hard Drive?
How to recover lost files from re-partitioned hard drives?
How to Recover Encrypted file on NTFS Drive?
How to Recover Deleted Email files?