How to Activate an iPhone?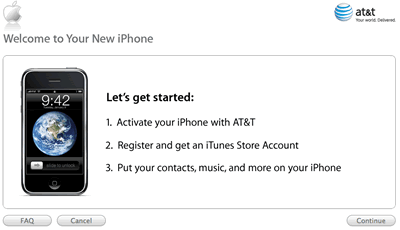 The iPhone is a smartphone developed by Apple Inc. with functions of iPod, digital camera, internet, text messages (SMS), visual voicemail and Wi-Fi spot. The interaction with the user is done through a touch-sensitive screen. Apple reported more than two hundred patents related to technology that created the iPhone. Similar to previous iPods, the iPhone can organize your media library by songs, artists, albums, videos, playlists, genres, composers, podcasts, audiobooks, and compilations.
In order to being using your iPhone, you have to activate it using iTunes(the latest version - iTunes 9). This is a step-by-step guide to everything you need to know about iPhone activation to get you started using it right away!
Downloading and installing the latest version of iTunes (or the newest version), which is required for activation. Once that's done, unpack the iPhone, set it on the included dock, and connect the dock to the computer. This will prompt iTunes to show you the first installation screen.
NOTE: This how-to applies only to the first-generation iPhone. The iPhone 3G uses a different activation process. The iPhone 3GS uses basically the same process as the 3G.


Step by Step Guide of How to Sync iPhone and iTunes
Step1: Select Customer Type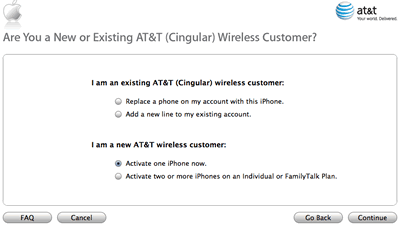 The next screen asks you to indicate what kind of customer you are: an existing or new AT&T customer and asks you to specify what kind of activation you're doing. Click the button that corresponds to you and continue.
Step2. Transfer Existing Number or Get New Number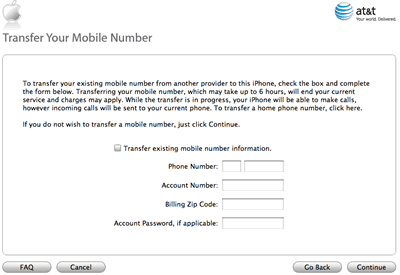 You can either have AT&T assign you a new phone number for your iPhone or transfer your existing phone number to AT&T for use with your iPhone.
If you want a new phone number, simple click continue when the Tranfer Your Mobile Number screen appears.
If you want to transfer your current number, fill out the form with your current number, the account number from your previous phone provider, your billing zip code, and your account password, if you have one.
Click continue.
If you are transferring your number, AT&T will check to make sure that the number can be transferred. Most numbers can be transferred, but some cannot (Learn more about why some numbers cannot be transferred to iPhone).
When your number transfer is registered, iTunes will prompt you to continue. Number transfers can take up to 6 hours to complete. While you wait, you will be also to use the iPhone and make outgoing calls, but not receive calls.

Step3. Select iPhone Service Plan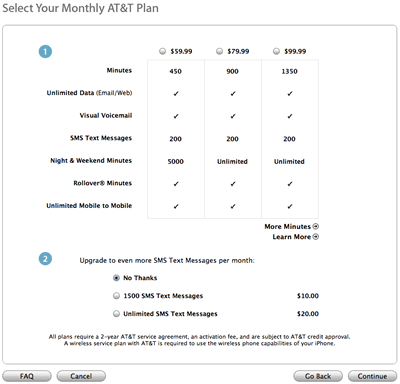 Next, iTunes will ask you what service plan you wish to use with your iPhone. Select one by clicking the button next to it at the top of the screen and click continue.
Step4. Sign in to Apple ID/iTunes Account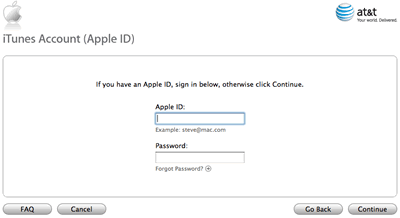 Now, iTunes will ask you to sign into your Apple ID/iTunes Account. If you've already got an account at the iTunes Store, this is the same account, so just enter your username and password.
If you don't have one, create an iTunes Store account and continue.

Step5. Confirm Personal and Billing Information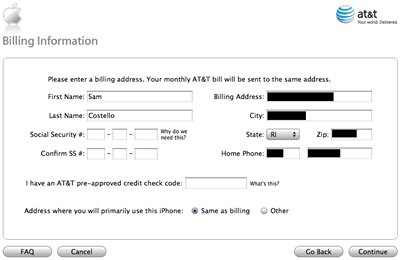 Once you have signed in, your iTunes Account information will automatically populate into the setup process.
First, confirm your birthdate and click continue.
After that, ensure that your billing information is correct. This is how AT&T will know where to send your bill every month.
Step6. Agree to Terms and Conditions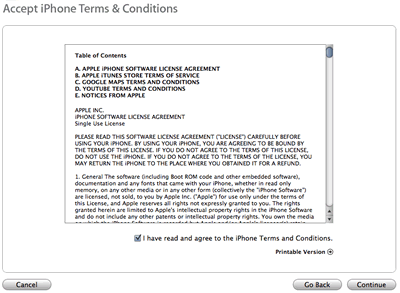 ITunes will now show you two pages of terms and conditions. Agree to both and continue.
Step7. Confirm Your Billing Information and Rate Plan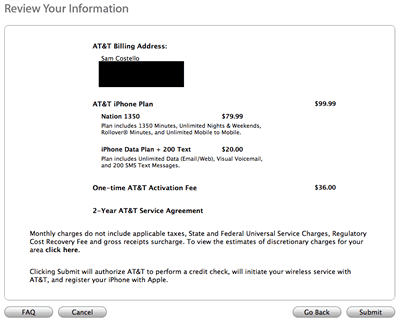 You will now see a screen that confirms all the information and selections you've just made. If you need to make changes, click "Go Back." To activate your iPhone, click "Submit."
Step8. iPhone Activation Complete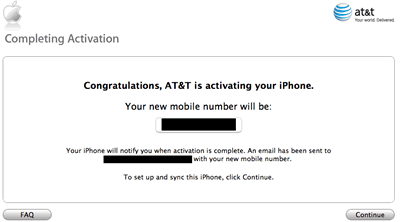 When your activation is complete, iTunes will bring you to this screen. If you got a new phone number, it will be listed here.
When this happens, the iPhone's screen will also light up, giving you a message that says that your iPhone activation is complete.
And you're almost there! Your iPhone has service and is ready to use, but now you should sync the iPhone with your computer to add your contacts, calendar, music, and videos. This will happen automatically or you can read my guide to syncing iPhone with your computer.

Related Software Step by Step Guides and Tutorials:
How to Backup All Your Contacts from iPhone to PC?
How to convert DVD to iPhone on Mac OS X step by step?
How to Transfer Contacts from your PC to iPhone?
How to Sync iPhone and iTunes?
How to convert MPEG WMV VOB MP4 AVI to iPhone Movies on Mac?
How to Activate an iPhone?
How to record iTunes radio stations onto iPod?