How to Sync iPhone and iTunes?
The iPhone is a smartphone developed by Apple Inc. with functions of iPod, digital camera, internet, text messages (SMS), visual voicemail and Wi-Fi spot. The interaction with the user is done through a touch-sensitive screen. Apple reported more than two hundred patents related to technology that created the iPhone. Similar to previous iPods, the iPhone can organize your media library by songs, artists, albums, videos, playlists, genres, composers, podcasts, audiobooks, and compilations.


Step by Step Guide of How to Sync iPhone and iTunes
Step1: Activate your iPhone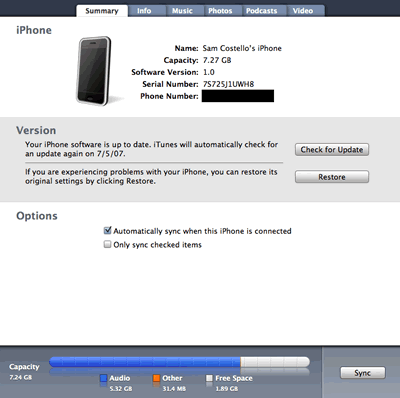 Once you've activated your iPhone, you'll be forwarded to the sync management page, which looks juts like the page used to manage iPod syncing and content.
As soon as you get there, the iPhone automatically begins syncing your phone with the contacts, calendars, web bookmarks, and email accounts it finds on your computer. You can choose to accept whatever it finds or you can customize what gets synced.
To change your syncing options, just click the on the tabs at the top of the window.
Step2. Syncing Calendars, Contacts, and Email to iPhone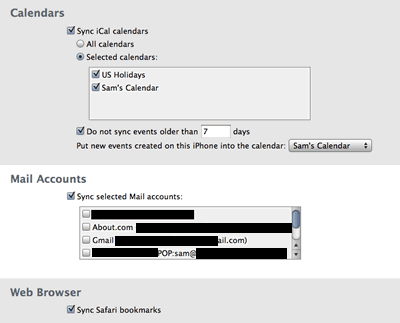 You control the calendars, contacts, email accounts, and other information that is synced to your iPhone in the Info tab. To see what is synced or to change it, just click that tab.
There, you will find listings for all the items iTunes found on your computer, what is being synced, and options.
Just click the checkboxes that correspond to the settings you want – syncing all items or just selected items within a section.
When you have made your changes, click the "Apply" button in the bottom-right corner.
Step3. Syncing Music to iPhone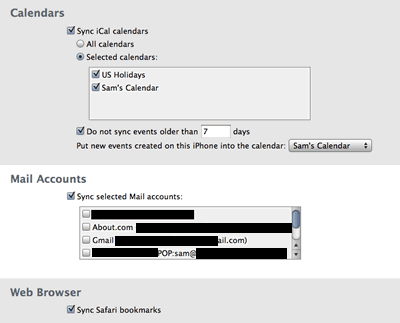 Because the iPhone has a smaller storage capacity than fifth-generation iPods and many people's iTunes libraries, you may not want to sync all your music to the phone. In order to control what music is synced to the iPhone, click the Music tab.
Here you can choose to sync no music, all music, or just selected playlists.
Music syncing does not happen automatically the first time you connect the iPhone to iTunes. As such, you have to specify what you want to sync and then resync before music is downloaded.
When you have made your changes, click the "Apply" button in the bottom-right corner.
Step4. Syncing Photos to iPhone
The iPhone can sync its photos with your iPhoto library. Choose what photo libraries, if any, to sync with iPhone in the Photos tab.
Step5. Syncing Podcasts to iPhone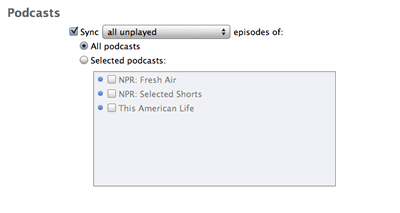 Podcasts have the same syncing options on an iPhone as they do in iTunes. You can choose to sync none or all of your podcasts, as well as those fitting certain criteria. If you wish to sync some podcasts, but not others, choose "selected podcasts" and then click the ones you prefer.
Like music, podcasts do not automatically sync to iPhone when it is first connected. You must choose your settings and resync.
Step6. Syncing Video to iPhone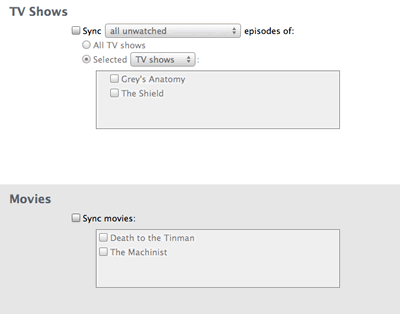 As with other items, you can choose to sync none, some, or all of the TV shows and movies in your iTunes library to the iPhone. Just click the items you want synced and click the "apply" button at the bottom right.
Step7. Resync to Update Content
When you're done chosing all your settings, click the sync button at the bottom right to resync the iPhone with iTunes and all your content will be in place.
Related Software Step by Step Guides and Tutorials:
DRM converter to convert DRM iTunes M4P to MP3 OGG WMA step by step guide.
How to convert DVD to iPhone on Mac OS X step by step?
How to transfer song from iPod to Computer or iTunes Music Library?
Mac iTunes M4P converter to convert iTunes DRM protected m4p to mp3 aac aiff wav on Mac Guide.
How to convert MPEG WMV VOB MP4 AVI to iPhone Movies on Mac?
How to update ipod video through itunes step by step?
How to record iTunes radio stations onto iPod?