How To Open a Rar File on Mac?

What is a rar file?
Rar files are compressed archives. The term "Archive" means that the file may contain not just one, but several files. It may even contain folders full of files, much like folders on your hard disk. "Compressed" means that mathematical techniques have been used to reduce the space needed to store the files, so that the size of the archive may be much smaller than the total size of the files it contains. In short, Rar files are a space-saving way of storing single files or groups of related files.
There are many different compression techniques in use today. "Rar" is a development of the Zip compression method invented by a Russian programmer Eugene Roshal (hence the name, Roshal Archive.) The Rar format uses advanced compression algorithms that can create some of the smallest archives - typically 8 to 30 per cent smaller than Zip archives - but the penalty is that compression may take a long time.
Other benefits of the Rar file format include redundancy, which can enable damaged archives to be repaired, and support for international character sets, allowing files with non-English filenames to be stored. For this last reason, Rar files are often used by computer users in Russia and other countries that use different alphabets.
Files stored in a Rar archive will decompress to exactly their original state. This is called "lossless compression." By contrast, the compression methods used to create JPG photo image files or MP3 music files are called "lossy compression" because some of the quality of the original image or sound is lost during the compression process.
Rar files occupy less storage space and take less time to send or download. They also provide a convenient way to package and send groups of related files. However, you can't run a program directly from a Rar file. The contents of the archive must be extracted to a folder on your hard drive before they can be used.

Step by Step Instruction - How to Open a Rar File on Mac?
Step1. Learn about .rar files. .Rar files are popular with Windows users (the main .rar expander being WinRar), but you can also open .rar files on your Mac.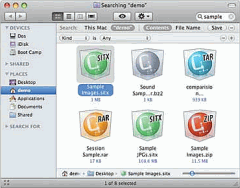 Step2. Use StuffIt Expander if your computer runs Mac OS X. This program is built in to the system. You can use StuffIt Expander (StuffIt Expander: one of the classic Mac utilities contains a complete set of tools for opening and creating the various types of compressed archive that you find on the web.) to decompress .rar files on your Mac. StuffIt Expander also opens several other compressed file types.
StuffIt has a handy "Quick Look" feature which saves time by letting you peek inside archives without opening them. It can also be used as a powerful backup program, which can create encrypted archives that can be saved directly to iDisk, CDs, DVDs or an FTP server.

Step3. Use a decompression tool such as UnrarX to open .rar files on a Mac. UnrarX is available for Mac OS X 10.0 and higher.
Step4. Download software such as RAR Expander, which supports Apple scripts and can also expand multiple archives at once.
Step5. Open .rar files on your Mac by dragging the files and then dropping them onto the icon for your expander software. The software will then decompress and open the files so you can use them.

Tips & Warnings
Make your own compressed .rar files with compression software and save space on your hard drive. StuffIt has this capability.
Before opening any .rar file, always make sure to run it through a virus scanner if you don't know where the file came from.
In some cases, large files are split into multiple .rar files called "volumes." You will know if you have a multiple-volume .rar file by the file name extension. The main file that you will need to decompress will be labeled .rar00, with additional files numbered .rar01, .rar02, etc. If you do not have all of the smaller volumes, you might not be able to open the main file. You will need to get the missing files from the original author.

Other Alternatives- How to Open a Rar File on Mac?
If you use an Apple Mac computer then you can use iArchiver to open a Rar file. iArchiver can also open Zip files, Stuffit files and many more types. It can create archives, and even convert between one format and another. It's easy to use and good value, too.
Related Software Step by Step Guides and Tutorials:
How to Recover Compressed files on NTFS Drive?
How to compress JPEG with JPEG Image Compressor?
How to listen to Text on Mac with Mac text to speech program?
How to play flash swf and flv file with swf movie player on Mac?
How to clean and repair registry?
How to convert video files to PSP video for Mac OS X?
How to convert DRM protected wma files to MP3 AAC AIFF WAV on Mac?