How to copy DVD and play on PSP?

How to copy DVD to PSP in order to enjoy DVD movie or only DVD audio in your PSP? Here I show you how to copy DVD to PSP with ImTOO DVD to PSP Converter, a powerful and easy-to-use DVD to PSP converter tool which helps you copy DVD to PSP video MP4 and PSP audio MP3.

Step1. Please download the fastest DVD to PSP software ImTOO DVD to PSP Converter from http://www.qweas.com/download/video_dvd/dvd_rippers/imtoo_dvd_to_psp_converter.htm and install this software.

Step2. Load your DVD into the program as a begin to how to copy DVD to PSP: choose "Add DVD Folder..." in the File menu or directly click the "DVD" button in the main interface, then select your DVD-ROM in the pop-up window and press the "OK" button.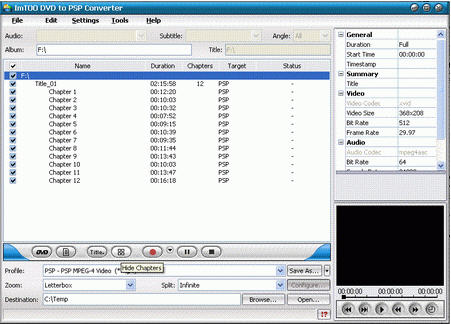 Step3.All files from DVD disc are loaded:
Two main modes to rip DVD: You can copy your whole DVD by highlighting the title which contains the whole episodes of DVD. Or, if you like, you can select certain chapters to copy: Press "Show Chapters" button on the interface to find all the chapters in the file.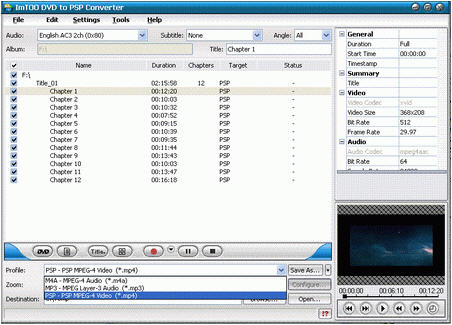 Step4. Highlight certain chapters you want to copy or just keep all chapters selected. Then select output format: Select the target output format in "Profile" combo-box on the interface.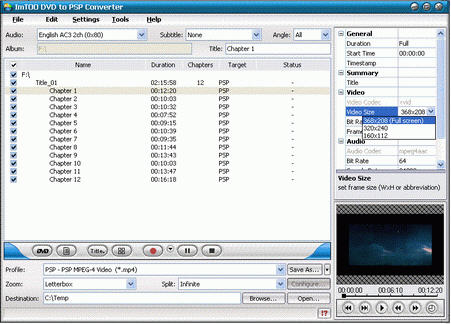 PS: You can only copy DVD audio as MP3 or M4A format playable on PSP. In the article of how to copy DVD to PSP, I select "PSP MPEG-4 Video" as output format.

Step5. Set output paremeter: After selecting certain output format, the right panel will show general standard of the format. By clicking certain setting, you may specify it. Or just keep the default settings.

PS: It supports clip or segment conversion. You can convert any clip or segment by setting the start point and duration at will. For example, you want to rip a clip from 00:03:20 to 00:08:00 please click "Start time" to set the starting time 00:03:20 and click "Duration" to specify the length 00:04:40.
Adjustable video size: 160x112, 324x248, and 368x208 (16:9 full screen on PSP)

Step6. There are other options on the interface you can adjust.
>> In 'Zoom' section, you can find four options. 'Letterbox', 'medium', and 'pan scan' will convert 16:9 format to 4:3 format. The Full option does not correct the aspect ratio. If you have a 4:3 DVD, use the Full option.
>> In the 'Split' drop list, you may select the size of the volumes that you would like to generate.
>> Select the output folder by clicking the "Browse..." button or directly enter a path in "Destination" box.

Step 7. Begin to copy DVD to PSP: Finally, press the "Encode" button. Note: The default setting is all item(s) checked. If you only want to rip certain item(s), check it/them, click "Encode", and then ImTOO DVD to PSP Converter will convert them one by one. You would see the info "Completed" in the status column after a successful conversion.

Step 8. After the files are successfully ripped, you may click the "Open" button to browse the output files.



Related Step by Step Guides and Tutorials:
How to convert DVD to PSP MP4 step by step?
How to download YouTube Video, convert YouTube to PS3 Zune Apple TV iPod 3GP?
How to convert DVD to iPhone Video MP4 step by step?
How to convert and burn VOB AVI to DVD step by step?
How to split MPEG, MPG, SVCD, DVD, VCD with Quick MPEG Splitter step by step?
How to convert video files to iPod format step by step?
How to copy DVD movies with dvdSanta step by step?
How to play DVD movie on my PC step by step?
How to rip DVD and put DVD on Zune step by step?