How to play MP4 files or play MPEG4 files with MP4 Player or MPEG4 Player?
MP4 vs MPGE4
The official filename extension for MPEG-4 Part 14 files is .mp4, thus the container format is often referred to simply as MP4.
What is MP4 or MPEG 4 ? MP4 files are basically multimedia files in a container format that can store video, audio, subtitle data and more information, depending on what kind of content is it. It is a standard that is used to compress audio and visual digital data.
MPEG 4 is the designation for a group of video and audio coding standard that was accepted by the Moving Picture Experts Group (MPEG) under the formal standard ISO/IEC 14496. Basically, the major uses of MPEG 4 standard are web and CD distribution, videophone conversation and broadcast television. This is done by compressing the AV stream.
MP-4 Features
You will find many features of the MPEG 1 and 2, in the MPEG 4. Other features that can be found include VRML support for 3D rendering, object-oriented composite files (audio, video and VRML), support for externally-specified Digital Rights Management and various types of interactivity. The MPEG 4 is a standard that is still in the developing stage and is divided into various parts. Not all companies state which part they are using when they promote MP 4. Usually, it is upto the individual developers to decide which features do they want to implement in a given file or format. This indicates that the entire set of MPEG 4 standard has no complete implementations.

How to Play MP4 Files
There are three basic things required to playback MP4 files - splitter (to access the actual video and audio data), decoders (codecs/filters) and playback software. Usually, Windows OS are loaded with a default Media Player. However, in order to play MP 4 files, it needs to 'split' a given file to access video and audio data. Even if you have playback software that has a built-in support to open MP-4 files, one can't guarantee that you can play the video/audio data without additional software.
-The easiest method to play MP 4 files is to download and install VLC player. This package has playback software to play MP4 files support decoding a huge number of audio and video formats.
-Another option is to download and install the Haali Media Splitter. After you agree to their terms and conditions, click install. A window will open asking you as to where you want to save the software. The default location is fine. Before installing, make sure the option of "Enable MP4" is checked. It only takes a few minutes to install on your computer.
-You may also install FFDShow on your computer. It is best compatible with Windows XP. After agreeing to their terms and conditions, you need to select a language and save the package in your computer.It is best to use FFDShow for video only with the programs listed in it to prevent any compatibility problems with any other software.

Easiest Solution
Download and install the VLC player. The VLC package already includes software to play MPEG-4 video content.

You can get VLC for Windows from this URL.
Click File and click the Open File option.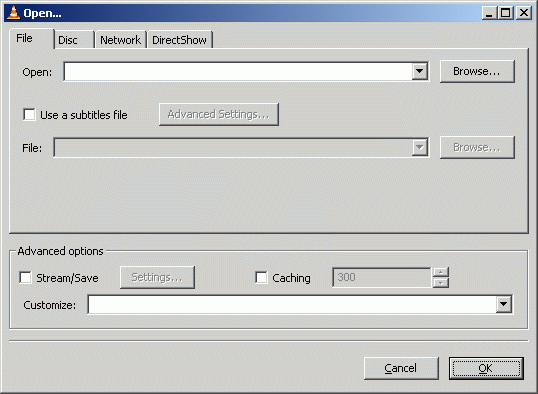 Now, click the Browse button next to the first white line at the top of the window with title "Open.." and navigate through your harddrive for the video you wish to watch and select it. After you have selected the video, click OK and VLC will start playing the video you chose.
For other Operating Systems..
mac: http://www.qweas.com/downloads/audio/video-tools/overview-vlc-media-player-for-mac.html
Related Software Step by Step Guides and Tutorials:
How to convert DVD to Apple TV format MP4 M4V (MPEG-4) H.264?
How to convert AVI to PSP (MP4, H.264/MPEG-4) step by step?
How to convert your video to 3GP, 3G2, or MPEG-4 with 2 only clicks?
How to convert m2p to mp4 for iPod?
How to burn Mpeg DivX XviD WMV ASF MP4 AVI to DVD on Mac?
How to convert MPEG to MPEG4 video step by step?