How to convert DjVu files to PDF with document converter ?
What is DjVu?

DjVu is a computer file format designed primarily to store scanned documents, especially those containing a combination of text, line drawings, and photographs. It uses technologies such as image layer separation of text and background/images, progressive loading, arithmetic coding, and lossy compression for bitonal (monochrome) images. This allows for high-quality, readable images to be stored in a minimum of space, so that they can be made available on the web.
Why do you need convert DjVu files to PDF ?

Unfortunately, at the present time the DjVu format is popular only amongst enthusiasts. The majority of ordinary computer and Internet users have not even heard of it. However, the free Acrobat Reader program is installed on almost every computer. This is a weighty argument if you plan on placing your article on a site or send it to a scientific journal for publication. Converting documents from DjVu into PDF simplifies access to it since after all, your readers don't have to install an additional viewer or plug-in for Internet Explorer. Therefore, that is why the PDF format is more suitable for publishing documents on the Internet than the DjVu format. So you need convert DjVu files to PDF.
This tutorial shows how to convert DjVu files to PDF with docment converter step by step.
Step1. Download Universal Document Converter, a powerful and simple program
Step2. Install DjVu Browser Plugin for Internet Explorer
Step3. Open the DjVu file in Internet Explorer and press the Print button in the DjVu Browser Plugin toolbar: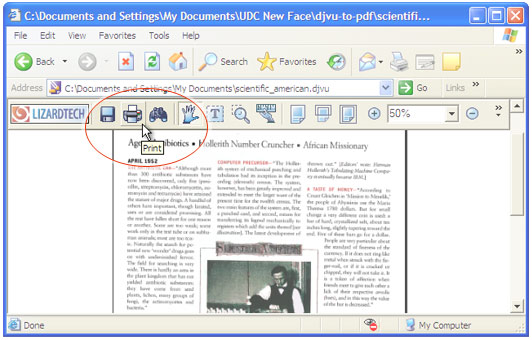 Step4. Select Universal Document Converter from the list of printers and press the Properties button.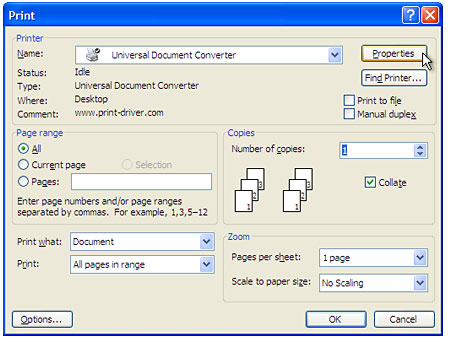 Step5. Select the Document to PDF, Color, Multipage profile in the Universal Document Converter Properties window and press OK.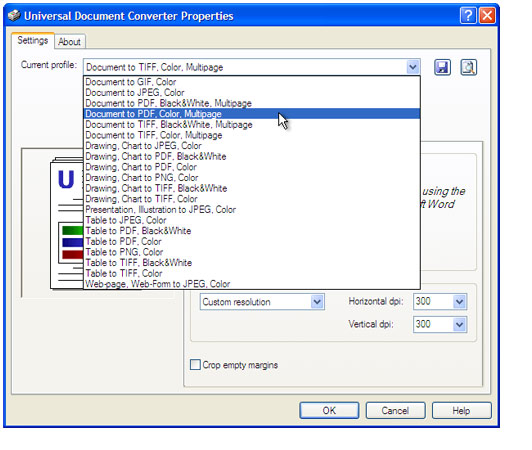 Step6. Press OK in the Lizardtech plugin Print dialog to start converting. When the PDF file is ready, it will be saved to the C:\UDC Output Files folder by default.

Step7. The converted document will then be opened in Adobe Acrobat or another viewer associated with PDF files on your computer.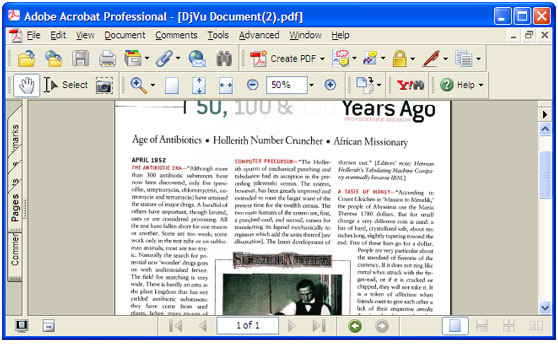 How to convert DjVu to PDF from DjView with novaPDF installed.

novaPDF is installed as a virtual printer so you can create PDF files simply by printing to it instead of your normal printer. To convert your Microsoft Office Visio 2007 diagram to a PDF:
Step1. Go to File->Open (or press Ctrl+O), browse for the DjVu file you want converted to PDF select it and click Open
Step2. Go to File->Print (or press Ctrl+P) and from the Printer name choose novaPDF. In the Printing Options section you can customize the color, orientation and the scaling of the document
Step3. Click OK and choose a location where you want the PDF file saved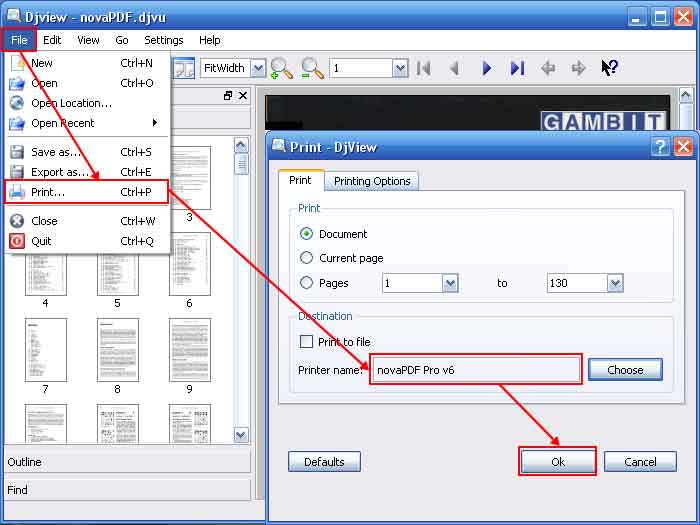 You can also convert DjVu to PDF in batch with A-PDF DjVu to PDF , and we guide the two screenshots:
A-PDF DjVu to PDF is a fast, affordable utility to allow you to batch convert DjVu (.djvu, déjà vu) into professional-quality documents in the PDF file format. Support hot directory monitor.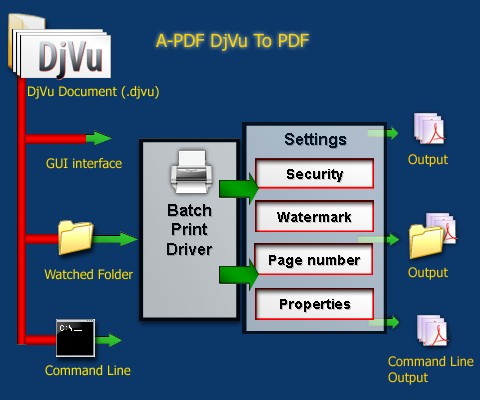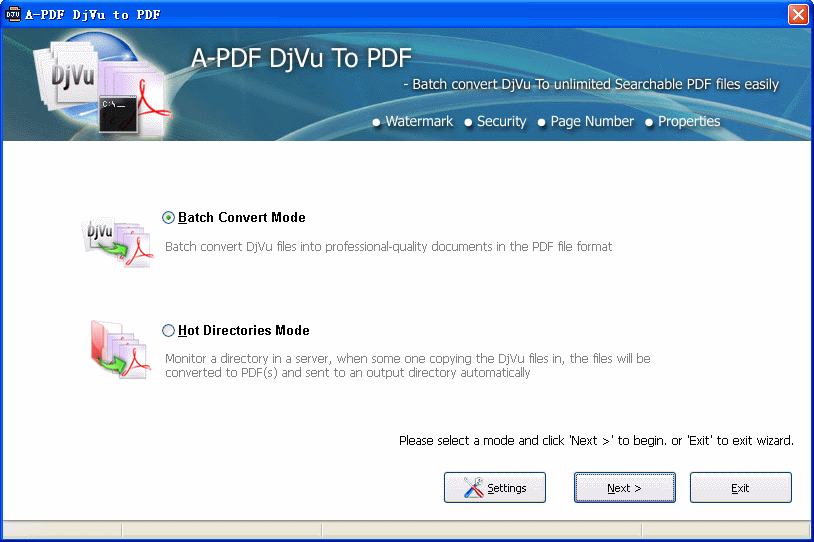 Related Software Step by Step Guides and Tutorials:
How to Convert PPT to CD with AutoPlay me for PowerPoint?
How to Convert DOC to CD with AutoPlay Me for Word?
How to Convert or Write PDF to CD with AutoPlay Me for PDF?
How to Convert PDF Document to TIFF Format with AP PDF to TIFF Converter?
How to Convert PDF to Image with AP PDF to Image Converter?
How to Convert Image to Pdf with Image2pdf?
How to convert Excel XLS/RTF XLSument to Jpeg/Jpg/Tiff/Bmp/Eps/Ps file?
How to convert Word Doc/RTF document to image (Jpeg/Jpg/Tiff/Bmp/Eps/Ps) file?
How to decrypt protected PDF files with PDF Password Recovery software?
How to convert html to PDF, create PDF from a valid URL in IE?