AV Voice Changer Diamond Introduction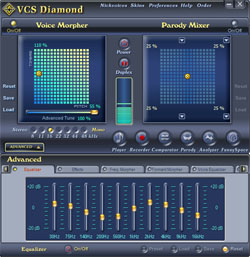 Voice Changer Software Diamond 7.0 is the latest edition in the VOICE CHANGER SOFTWARE series which is dedicated to voice changing and voice manipulating for online and local computer-based programs.
Voice Changer Software Diamond can do a wide range of voice changing related tasks for many different purposes, such as voice-over and voice dubbing for audio/video clips, presentations, narrations, voice messages, voice mails, E-greeting cards, etc.; mimic the voice of any person, create animal sounds, change voices in songs, etc.
This software can be used with all online games including Second Life, World of Warcraft, EVE Online, Lord of the Rings Online, Everquest, Counter-Strike, Battlefield 2 and many more.
Voice Changer Software Diamond works well with many VoIP and Instant Messaging programs such as Skype, Ventrilo, TeamSpeak, Yahoo Messenger, MSN Live Messenger, AIM, XFire, GoogleTalk, Roger Wilco, Net2Phone and more.
Main features:
Superb voice changing algorithms
Game mode optimized for online games
Customized "quick" nickvoices
Clean and simple user interface
High-quality voice output
Compatible with Internet-based programs
User-friendly interface
2-Dimensional voice changing
Audio & video stream interception
Audio effects explorer
Frequency & formant morphers
Advanced equalizers, sound quality improver
Adjustable sound parameters
Non-human voices
Background affects
Player
Recorder
Voice comparator
Voice analyzer
System Requirements of AV Voice Changer Diamond:
Windows XP 32 bit / 64 bit, VISTA 32 bit operating systems.
Full-duplex soundcard.
Pentium III or higher compatible processor ( 2.4 GHz CPU or better for Diamond edition).
Headset (instead of a microphone and speakers separately) .
100 MB hard disc space.
A microphone.
Please notice that this software does not support Windows 2000, VISTA 64-bit, Mac OS X.