SpyNoMore Introduction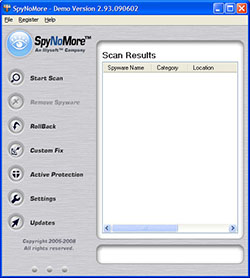 SpyNoMore is a leading Anti-Spyware software. It checks your computer for installed malicious programs (spyware / adware / keyloggers / hijackers, trojans, etc. - collectively called Malware) and allows you to remove any detected item. By ridding your PC of Malware, your privacy is protected, annoyances are eliminated, and your PC runs a lot smoother. Once your PC is cleaned, SpyNoMore keeps it clean by applying various Active Protection schemes.
SpyNoMore includes a patent-pending feature called Custom Fix which guarantees removal of any infection! For more details, see SpyNoMore Custom Fix (patent pending).
Main features:
Huge Anti-Spyware Database guarantees removal of existing infections


Active Protection blocks new spyware BEFORE they infect your PC


Host Blocking ensures that known spyware-spawning websites are always blocked


Vaccination feature inoculates your system against inbound threats


Ticket-Based HelpDesk ensures a timely and professional response


Custom Fix™


Start Scan Options - these options let you choose between smart scan which gives you a fast but reliable scan; or you may opt for the full system scan feature that gives your system a thorough check-up and fix-up.


Detailed Scan Results


Rollback Feature - all applications or files tagged as spyware are automatically placed in quarantine before they are completely deleted. You can restore them if you want to.


Host blocking prevents your system from visiting known spyware sites.


Real-time protection.


System Requirements of SpyNoMore:
Platform: Windows 3.x, Windows 95, Windows 98, Windows Me, Windows NT, Windows 2000, Windows XP, Windows 2003, Windows Vista
Hardware Requirements: 256 MB RAM