Tansee iPhone Transfer SMS Introduction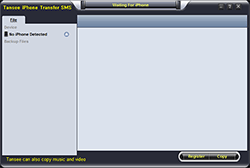 All iPhone users can't backup the SMS to anywhere until the SMS box is full, then you have to delete all of them to prevent iPhone rejecting new SMS receiving. With Tansee iPhone Transfer, you can transfer the iPhone SMS to computer as a txt file or a ANTS file before the event above happens. Before the transfer, you can choose to transfer from all contacts or a single contact, further more, you can choose transfer the SMS to a TXT file or a ANTS file. In ANTS file condition, you can protect the file with a password to keep your privacy. From now on ANTS file support edit feature just the same operation process as the SMS edit on iPhone. If you want print iPhone SMS, you can choose MHT file format, then open the file by Internet Explorer, print it just like shown on iPhone! No more words, please watch how to backup iPhone SMS to computer, a step by step guide or process the order.
With secure Tansee online store, you can process your order safely. We accept Credit Card, PayPal, Bank/Wire Transfer, Check/Money Order, Invoice... You can immediately get the keycode after purchase automatically.
Main features:
Tansee iPhone Transfer SMS can provide you:
Backup SMS in iPhone to computer before iPhone reject receiving new SMS.
View and Manage old iPhone SMS in your computer.
View SMS in Text file format (.txt file), ANTS file format (.ants file), MHT file format (.mht file)on PC.
Password protection support (ANTS file only).
Edit SMS (ANTS file only).
Print SMS (MHT file print by IE).
System Requirements of Tansee iPhone Transfer SMS:
Tansee products can run on almost all the windows operating systems: Windows 98, Windows 2000, Windows XP, Windows 2003,Windows Vista. An iPhone is also required.