PSP Movie Creator Introduction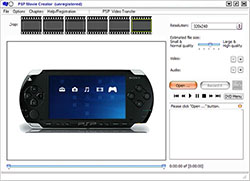 PSP Movie Creator helps you to convert PSP video/movies in one click. The software converts DVD movies and various video formats* to Sony PSP directly.
Unlike other software which requires at least two steps to convert from DVD to PSP, PSP Movie Creator works in 1 step and is 400% faster with even better video quality. Moreover, the converter gives you advanced video editing features not found anywhere else.
PSP Movie Creator is also a PSP video management software designed for dummies. It connects to PSP and transfers video for you, automatically sets default PSP video filename, PSP video title and captures video thumbnail. Unlike other software, PSP Movie Creator can capture PSP video thumbnail in the middle of preview/recording by simply clicking the capture button. Built-in PSP video explorer window lists video filenames and PSP video titles together side by side. Pie chart of PSP memory stick usage, free spaces are displayed for the best of your convenience.
Main features:
New in version 2.0: batch conversion mode, H.264 support and smaller file size, etc.
The software supports most comprehensive video formats: DVD, DivX/XviD, avi, wmv, mpg, mpeg, dat(VCD), rm, rmvb, Tivo2Go, etc. DVD subtitles supported.
Converter supports 320x240, 368x208 or 400x192 resolutions for optimized video playback on Sony PSP. (PSP Movie Creator software has an intelligent resolution auto-select algorithm built-in)
System Requirements of PSP Movie Creator:
PSP Movie Creator runs on PC (Microsoft Windows 98/ME/NT/2000/XP) to record video into Sony PSP movie/video format (*.MP4). (No Mac OS version has been planed yet)
PSP Movie Creator requires a USB cable or memory stick reader to transfer movies/video file onto Sony PSP.
PSP Movie Creator requires a DVD-ROM, a DVD video player software installed in your PC (e.g. WinDVD, PowerDVD, etc)
A full length DVD movie/video can be compressed into a 256MB or larger PSP Memory Stick using PSP Movie Creator software. PSP UMD video disc is not required.