TextAloud Introduction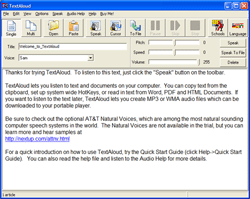 In a nutshell, TextAloud converts text into spoken audio. With TextAloud, you can either listen to the audio immediately, or save it to an audio file (.MP3 or .WAV) for later playback. The later option is a great feature for me, because all I need to do is convert the document into .MP3 format and copy it to my low-voltage .MP3 player.
The TextAloud interface is very easy to use. Newbies will appreciate the simplicity of TextAloud, because it provides simple-to-follow documentation up front.
By far, the best feature of TextAloud is its ability to convert text files to audio. Combined with the AT&T Natural Voices, TextAloud creates MP3 or WAV files with the best clarity I've heard in the computer voice generation field. For people like me who travel frequently, TextAloud provides a very convenient way to catch up on news and information.
Main features:
Sit back and relax while your PC reads to you
Save text to MP3 for portable audio players
Proofread your own writing
Listen to that report while you're on the treadmill
Find help for someone with a reading disability
Create messages for your answering machine
Reduce eye strain from too much reading
Listen to information while you work on something else
Take some reading along for your daily walk or run
Turn your iPod into a tax write-off
Listen to an eBook during your commute
Study English as a Second Language
Help a senior citizen or someone with low vision
Add some spice to your PowerPoint presentations
Find a great new tool to study for exams
Listen to text read in other languages
Amuse your kids by letting your PC read stories to them
Create audio files for computer games
Prepare for a big speech by hearing your words read aloud
System Requirements of TextAloud:
Win 95/98/ME/NT/2000/XP/Vista
Minimum P200
64MB RAM
10MB Disk Space
Sound Card