Fast Blog Finder Introduction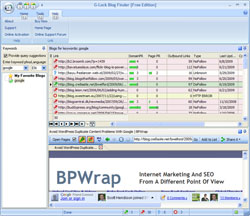 Fast Blog Finder is designed to search for blog posts that rank in Google for a particular phrase and makes it easy to comment on them. Fast Blog Finder searches for quality blogs that accept comments. It brings up blogs with both "dofollow" and "nofollow" tags. It also shows the Google PageRank for each domain and blog page post and has options that can be tweaked to filter by Domain PR, Page PR, link type, date and user note.
You can export a report about your blog comments to a user definable format at any time. With a powerful Backup/Restore feature you will never lose your keywords and blog lists found for these keywords. You can save a full backup of your workplace and restore it whenever you need it.
Main features:
search the Internet for blogs that accept comments using the keywords or keyword phrases
determine the domain and blog page PR
determine the type of blog page ("dofollow" or "nofollow")
post comments on the blogs directly from the program
reduce to minimum your time for finding themed blogs and submitting comments to them
increase search engines and human traffic to your web sites
boost your natural search engine rankings
gain dozens (if not hundreds) of high quality backlinks to your websites
instantly get the search engine spiders to your web sites and get your sites indexed naturally
System Requirements of Fast Blog Finder:
Windows NT, XP, 2000, Vista + Internet Explorer 5.5 or higher