Super DVD Creator Introduction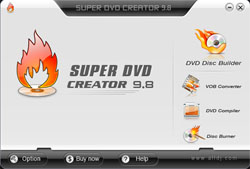 Super DVD Creator is a DVD conversion and authoring tool, it was designed to convert and burn AVI, WMV, DivX, Xvid, RM, RMVB, Asf ,VOB, MPEG-1/2, MOV(quick time), MP4, 3GP files to DVD VCD SVCD, Super DVD Creator is the easy way to create your DVD VCD SVCD video disc with DVD Menu and DVD subtitles(*.srt). You can use this software to create DVD/VCD from your digital video recorder, Webcam, or downloaded files.
Super DVD Creator is a powerful, splendid and simple to use application for AVI Rm Divx Wmv Asf RM to DVD video converting and burning.
Main features:
Create DVD from RM, Wmv, Asf, Avi Divx Mpeg file with DVD Menu
Create SVCD from RM, Asf, Wmv, Avi Divx Mpeg file
Create VCD from RM, Asf, Wmv, Avi Divx Mpeg file
Convert RM, Asf, Wmv Avi Divx Mpeg file to DVD Mpeg or VOB (PAL / NTSC)
Supports RM, Asf, Wmv, Avi, Mpeg, Divx, Xvid, Mov media format
Burn Media file to DVD, VCD, SDVD Disc * DVD VCD SVCD Video Disk Burner Inside!
Build DVD in 60 mins (depends on your system speeds)
Batch convert all movies direct to DVD or VCD/SVCD
Create DVD with DVD Chapter Menu just one click
System Requirements of Super DVD Creator:
Pentium III PC or higher
64MB RAM or more
DVDRW burner
FFD Show
(Any other codec you want to use)
Windows95, 98/98SE, Me, NT4, 2000 or XP/2003