HyperSnap Introduction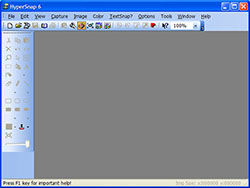 HyperSnap 6 is the fastest and easiest way to take screen captures from Windows screen and text capture from places where system text copy is not possible. HyperSnap combines the power of a first-class screen capture application with an advanced image editing utility - wrapped into one easy-to-use tool. Now compatible with Windows 7.
HyperSnap is perfect for capturing images and texts that you want to include in your Help system, online tutorials, manuals, training handouts, presentations, marketing materials, Web pages, emails and more. Use HyperSnap to quickly share a picture-perfect representation of anything on your screen. Compatible with 32 bit and 64 bit releases of Windows 7, Vista, XP, 2000, NT4, ME and Windows 98.
Main features:
TextSnap™ feature to capture editable text from almost anywhere on the screen, when running under Windows 2000, XP or newer. Starting from ver. 6.10 can also capture tab-delimited data for easy paste into MS Excel.


TextSnap™ - text capture with auto-scrolling


Option to add shadows to drawn objects


Double-headed arrows


Region capture mode now shows cursor coordinates.


Multi-document tabbed user interface, lets you snap and open as many images at once in one HyperSnap-DX frame window, and easily switch between them with tabs at the bottom of the frame window.


New free-hand capture method, to draw any outline on the screen and capture only what's inside.


Save (upload) to FTP server feature, working also with automatic timed saving.


New powerful "Stamps" feature, accessible from "Image" menu and drawing toolbar, allows you to define "stamps" that contain graphics, text or both. Text may contain macros that expand to current date, time, file name etc. at the time of stamp usage. Stamps may be inserted directly on an image, or appended at top or bottom as a header or footer.


An option to automatically stamp - or add header, footer to - all captured images with pre-defined stamps. * New "Add drop shadow" and "Add frame" functions on "Image" menu, with an option to auto-add a shadow or frame to all captures.


New "Blend Selection" slider, allows you to blend a pasted or selected image fragment with underlying bitmap at any opacity level from 0 to 100%.


Text adding is more powerful now, allowing to mix fonts, colors and styles of text within a single "add text" box. Also you may edit the text after inserting it by double clicking the text, as long as you did not change the underlying bitmap in any other way yet.


New "Tools" menu where you may add commands to start other programs or open other documents from within HS-DX interface.


New help in HTML Help format and more "helpful" popup messages after clicking on a user interface item with "What Is?" help cursor.


Many more small improvements.


System Requirements of HyperSnap:
Any computer running Windows 98, ME, NT4, 2000, XP, 2003 Server, Vista or newer. 10 MB of free disk space is needed to install the program (about 5 MB is actually used after the installation finishes).